Tigers do it tough, but win against upstart Kangaroos
Richmond beat upstarts North Melbourne by 10 points at Etihad Stadium on Sunday but the reigning premiers were made to look as vulnerable as they have since losing to Adelaide in round two.
The Tigers didn't play too poorly at all and credit needs to go to North Melbourne, who managed to eventually find a way through Richmond's relentless front half pressure to challenge in the second half, but go down gallant in defeat.
Dustin Martin clashes with Ben Cunnington.
Ben Brown, usually so trustworthy in front of goal, missed two sets shots late in the last quarter that could have given North Melbourne hope and even the lead. He kicked two for the day in a enthralling battle with Alex Rance, the pair sharing the points across the four quarters in a series of thrilling aerial duels in the forward 50.
The Kangaroos' admirable effort was epitomised in their final-term performance. They kicked two goals to Richmond's two. The Tigers have brutally trounced teams in the last quarter all season, and given most of the game's final moments were played in Richmond's defensive half they made the Tigers look unstable in a period of play where they're usually formidable.
Richmond can thank Trent Cotchin for a large part of their win. He sprung to life after a quiet first quarter and helped his midfield match it with North Melbourne's, who were led by a record contested disposal count from Ben Cunnington (32).
Cotchin was more damaging on the outside though. His ability to find space and dish to a teammate when under pressure was priceless, as was his last quarter goal, a snap – tapped to him intuitively by Dustin Martin – which gave Richmond the lead when the scores were level.
Richmond began stronger and gained the game's early initiative despite their superstar Martin only having two handballs in the first quarter.
He was being trailed by Ben Jacobs, who is one of if not the best tagger in the AFL. Jacobs did a great job but Martin still had some crucial moments of class to make up for his muted game.
The Tigers looked dangerous on the break early with North's tall forward line battling to peg the opposition back, while at the other end Richmond's fleet-footed attackers made life difficult for Kangaroos defenders trying to clear their lines. What did work for North was how dangerous their forwards – Brown and Jarrad Waite in particular – looked when flying for marks.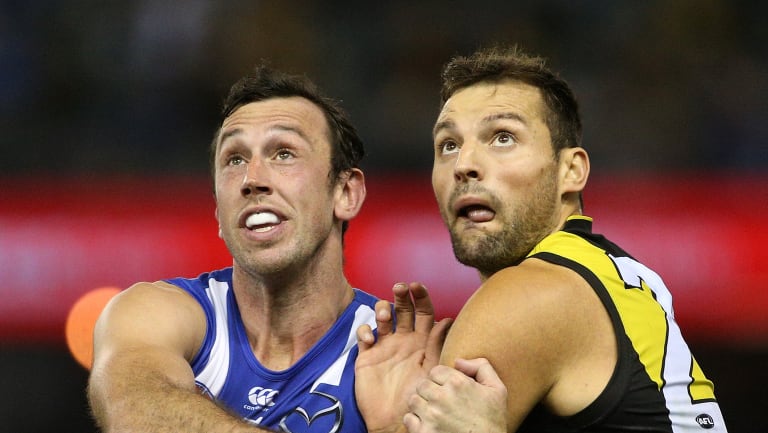 The Roos pushed the Tigers, but couldn't come away with the win.
North Melbourne's woes in getting the ball out of their defence continued in the second term, while at the other end Richmond escaped their defensive 50 with relative ease. The repeat entries for the Tigers enabled them to pile on four goals in a row in the middle of the quarter to open up a match-high 26-point lead, but a goal to Shaun Atley late, after some wonderful aerial and ground level work from Brown, kept North in the contest.
Martin worked his way into the game in the second quarter and he was important in the way Richmond were able to enter their scoring zone, while Cotchin's output lifted, helping the Tigers match North on the inside, with Cunnington leading them. North still looked dangerous when they got through Richmond and they certainly weren't playing poorly despite the lead that had opened up.
Richmond's pressing let up in the third quarter and simultaneously North Melbourne's ability to run and carry through the middle skyrocketed. They were sending the ball inside 50 to Brown and Waite in space, rather than them being crowded by an army of Tigers waiting to pounce and rebound. It allowed the Kangaroos to kick four goals to Richmond's one in the term and cut their deficit to four points.
Shaun Higgins snapped a goal early in the final term to give the Kangaroos a two-point lead, their first of the match, but Richmond responded almost immeadiately through Josh Caddy, who kicked four goals for the afternoon.
Martin's poise led to Dan Butler kicking the sealer for the Tigers. Running into the forward 50 he could have blazed away at goal but instead he pulled his kick and found one of the Tigers' "mosquito fleet" on the lead, who buried the set shot.
RICHMOND 3.4 8.4 9.7 12.10 (82)
NORTH MELBOURNE 2.0 5.2 9.3 11.6 (72)
Goals: Richmond: J Caddy 4 K Lambert 3 J Riewoldt 2 D Butler J Castagna T Cotchin. North Melbourne: B Brown 2 J Waite 2 M Wood 2 S Atley 2 J MacMillan J Simpkin S Higgins.
Best: North Melbourne: Cunnington, Anderson, Jacobs, Brown, Thompson, McDonald. Richmond: Cotchin, Caddy, Rance, Vlastuin, Martin, Houli.
Umpires: Ray Chamberlain, Brendan Hosking, Curtis Deboy.
Official Crowd: 29,153 at Etihad Stadium.
VOTES
Cunnington (North Melbourne) 9
Cotchin (Richmond) 9
Caddy (Richmond) 7
Vlastuin (Richmond) 7
Anderson (North Melbourne) 7
Source: Read Full Article