Last year, Phil Gould described Trent Barrett as "the next supercoach". Around the same time, Bob Fulton predicted Barrett would become one of Manly's "great coaches".
Before Barrett becomes any of these things he will have to work out how he's going to win competitions at a club in desperate need of leadership and strength from above.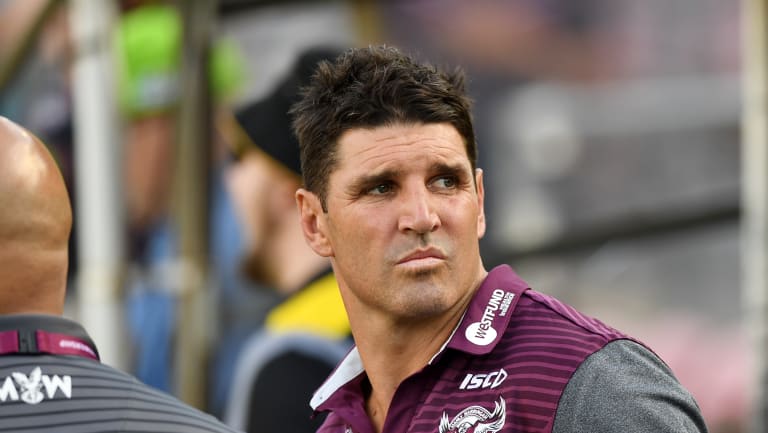 Manly coach Trent Barrett.
Sea Eagles co-owner Scott Penn is spending much of his time in the US and appears to be asleep at the wheel, which isn't ideal when chief executive Lyall Gorman can't handle something as simple as fining five players for breaking curfew so they could head to a strip club.
The story about the sanctions was leaked on Monday night. The Sea Eagles didn't bother putting out a media release until 24 hours later.
In the meantime, not one official stood in front of a camera and answered questions about the matter. Some took reporters' calls, some didn't. It was gutless and it was wrong.
Instead, a handful of players were trotted out as part of their weekly media commitments, deflecting questions about the amateur way their club is going about their business.
Winger Aku Uate took his frustration out on the media. It's understandable even if it was misguided.
"Man, the main thing for me is that you guys can actually help us by being positive," he told reporters. "I feel for Chez [captain Daly Cherry-Evans]. He's got three beautiful girls to go home to every afternoon, every day, and he comes in and rips in at training. He's done nothing wrong."
Really?
Is this the same Cherry-Evans — the captain who is on an eight-year, $10 million mega deal that ultimately caused the club to be sanctioned for busting the salary cap — who patronises a Gladstone strip club against the orders of his coach, then returns to the team hotel, goes into the room of teammate Jackson Hastings and gets in an argument?
Cry me a river. If I'm a Manly player, I would be angry with the five players who attended The Boardroom in Gladstone after the loss to the Titans.
Those five players haven't been named, which means every Manly player is guilty by association. You can hear the delicate conversation with wives and partners now. "It wasn't me! I didn't go! I was watching Netflix! Honest!"
The main issue here isn't whether a handful of footballers went to the local shake joint on a road trip. The issue here is the club's culture, that magical intangible everyone wants or says they have but struggles to define.
"Culture is how we do things around here," Green Bay Packers coach Vince Lombardi once said.
"Culture" usually starts and ends with how you treat people, and on that score Manly doesn't have the greatest track record, especially with its coaches.
Club officials angered Des Hasler so much he walked just days after winning the 2011 premiership. It then shafted Geoff Toovey so badly he now refuses to go anywhere near Brookvale Oval.
If this is how the club treats favourite sons, how will they treat Barrett, a former Dragons captain, if it all goes awry?
The management of Hastings out of the club is simply appalling. He might be a weird/insecure/troubled soul who rubs teammates the wrong way. He did it at the Roosters. He's done it at Manly.
But to push him out partly because of his inability to handle the club's "pranking culture" — after the same thing happened to assistant coach and Barrett's close friend of 20 years, Willie Peters, late last year — is not right.
Barrett sided with his strength and conditioning coach and chief prankster Dan Ferris on that occasion.
This time he's sided with Cherry-Evans, who has never been universally liked among his teammates, and that is fair enough. He's backed his captain, his playmaker, his big dog.
But what's becoming clear is that Cherry-Evans will soon have this club in the palm of his hand and will do so for many years to come given the length and size of his deal. We wonder how that's going to eventually wear with other players.
Barrett has larger issues than his side losing its last three games heading into Friday night's match against the Knights at Brookvale Oval.
Footy is a tough trade but you can only survive at Manly with a ruthless, rat-cunning mindset. It has the busiest human resources department in the game, given how many people come and go.
Does Barrett have that ruthlessness in him?
Last year, as Manly tried to extend his contract, his management was sniffing around the Titans, Bulldogs and South Sydney. He eventually re-signed until the end of 2020.
He's one of the best people I know in footy, stretching back to his playing days when he was a kid from Temora who quickly became the face of the game.
Coaching makes young men turn old very quickly. Coaching Manly will have you playing lawn bowls and falling asleep mid-sentence before you know it.
Bogut makes peace with Cambage
Newly signed Sydney Kings star Andrew Bogut has revealed his bitter social media feud with Opals centre Liz Cambage is over.
The pair have been sniping away at each other on Twitter for the last couple of years, including when they were representing Australia at the Rio Olympics.
"I got smashed!" he said. "Leave her alone! I didn't tweet her. She went me three times! I saw her in the athletes' village, we had good dialogue face-to-face and then she's denied it even happened. But you know what: I'm done, I wish her all the best. She's a great player and I hope she figures her headspace out. Half the time I was sitting there with the national team laughing about it all."
The hunted . . .
Last week's item about Rugby Australia boss Raelene Castle and her lack of strength during the Israel Folau gibber-jabber drew quite a lot of interest, especially from Bulldogs types, who pointed out that Castle failed to meet many of the key performance indicators set for her when she was appointed chief executive in 2013.
There's a lot of finger-pointing going on at the moment about who is responsible for the Dogs' salary-cap mess: Castle, sacked coach Des Hasler or former chairman Ray Dib.
Probably all three in some respects. As it's been explained to me, Castle simply handed recruitment and retention to Hasler and his recruitment manager, Noel Cleal, when she should've been paying more attention.
. . . and the Hunter
Castle could do worse than to get some pointers from the Maitland Blacks Rugby Club, which was founded in 1877. They know what they're doing.
The club is in rude health. For the last two years, it has been the No.1 junior rugby club in Australia for player growth. It presently has 467 juniors — and 90 of them are under-7s players.
Last Sunday, the Blacks held a lunch to raise money for the upgrade of its playing surface at their home ground, Marcellin Park.
Former Wallabies captain Nick-Farr Jones, who has been a patron and a significant benefactor for 18 years, was inducted into the club's Hall of Fame. The lunch raised $35,000.
One of the first matches of footy this column ever covered was a Blacks game at Marcellin in the mid-1990s.
As soon as I saw breakaway Ashley Steinerts at the bottom of a ruck near the sideline, looking up at the opposition and pleading with them to, "Stomp me! STOMP ME!" I instantly knew this was a very special club.
Source: Read Full Article