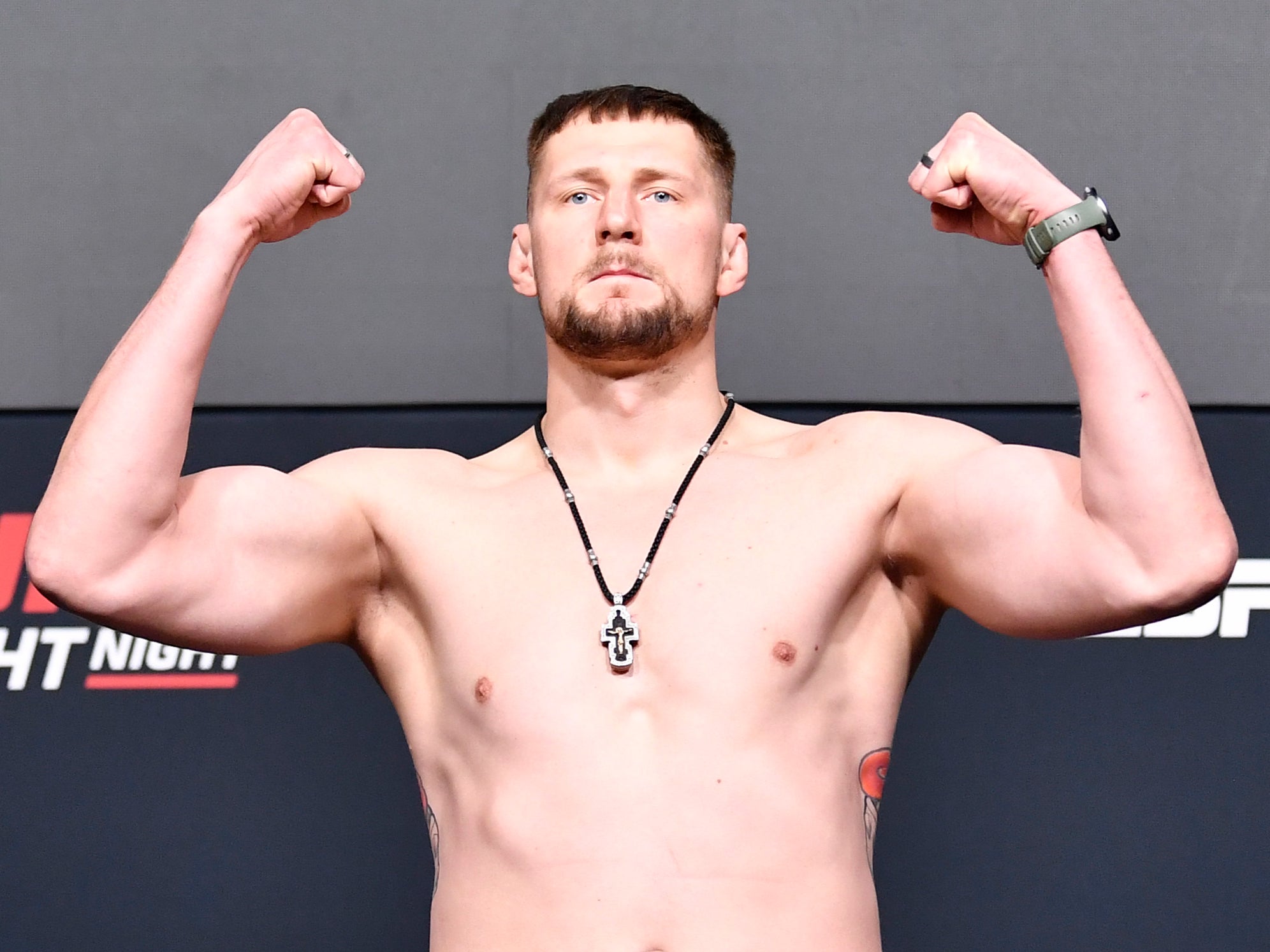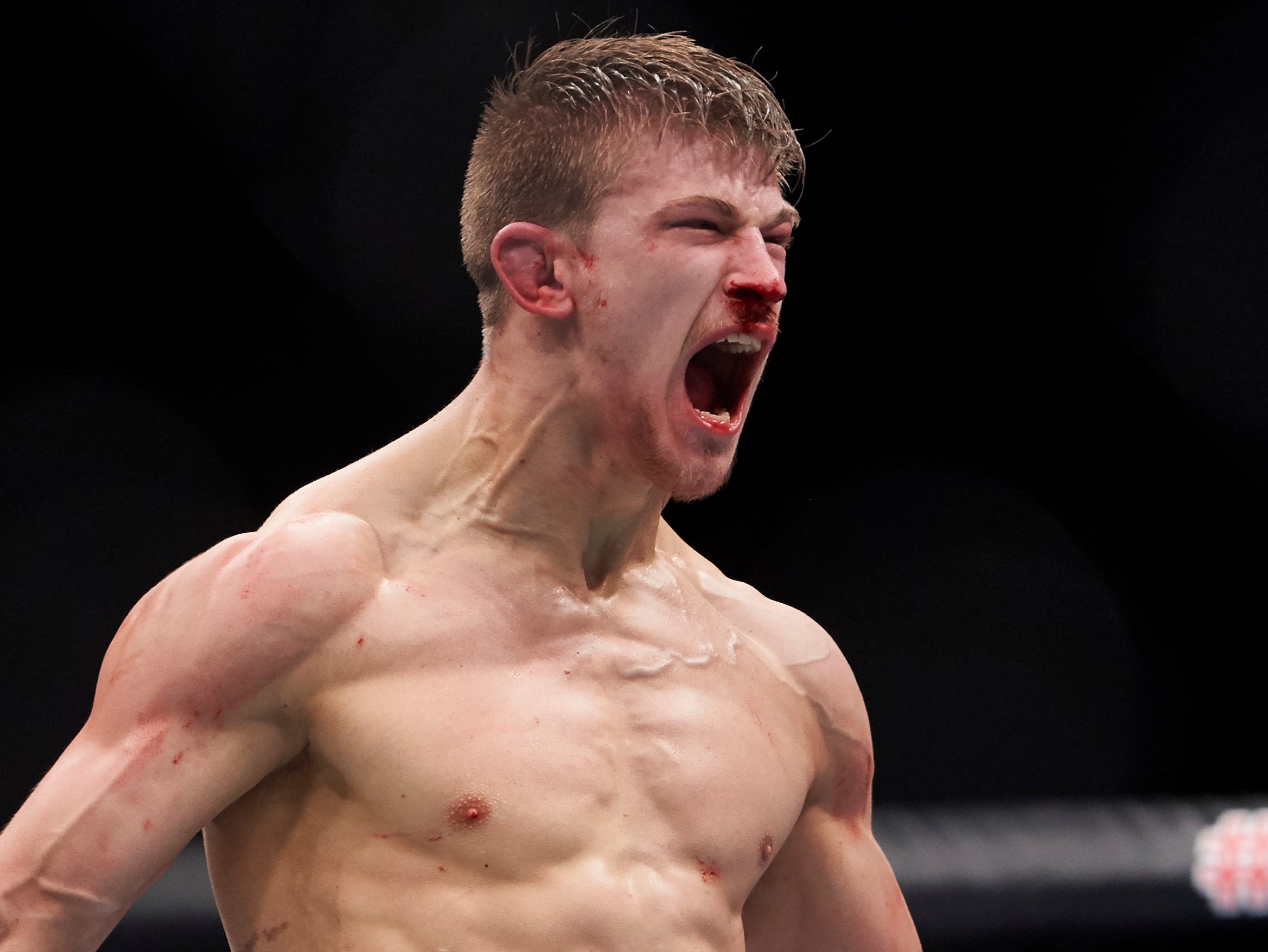 UFC London 2022 media day
Ahead of UFC London, The Independent chatted to Arnold Allen, who faces Hooker this weekend.
"I don't want to be famous, I don't like it," the 28-year-old said.
"I just want to be the best fighter in the world, I don't necessarily want the fame that comes with it."
Read all of what the Suffolk fighter had to say: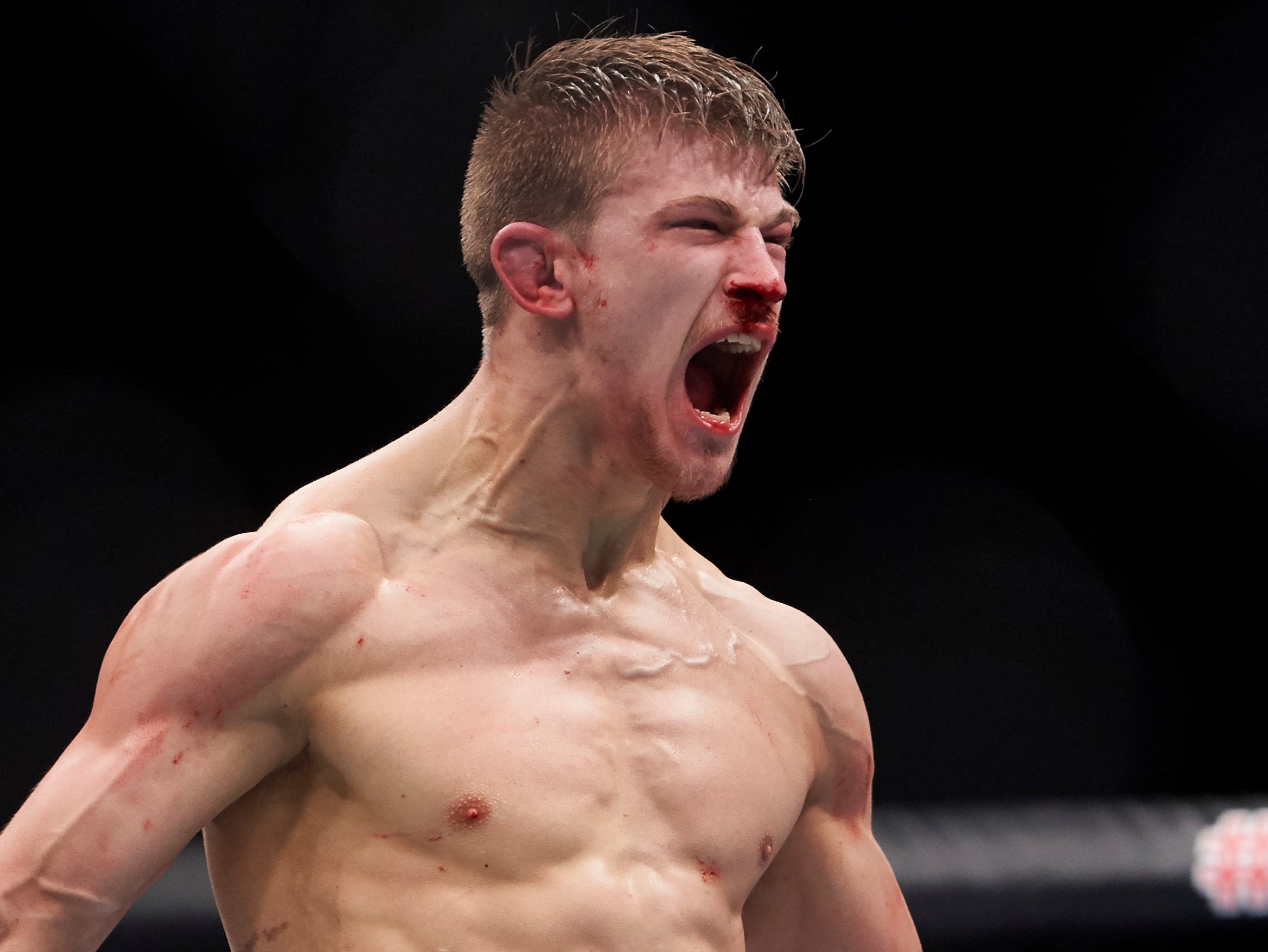 Arnold Allen: 'I don't want to be famous, just the best fighter in the world'
Interview: The Suffolk fighter takes on New Zealand's Dan Hooker in the co-main event at UFC London
UFC London 2022 media day
Dan Hooker:
"It's harder for me to turn a fight down than take one.
"If I was to miss a training session, that would play on my mind. I'd spend more time thinking about that than it'd take for me to get in a car, drive there, give 100 per cent and drive home.
"I just follow my instincts, follow that passion and ride the wave. I don't understand how some of these guys let opportunities pass them by. It's such a volatile sport… While I'm healthy, I'm good to go."
UFC London 2022 media day
Dan Hooker on being in enemy territory:
"There's always a balance to it, of being the villain before…
"Three times I've fought in my hometown, it's a crazy amount of pressure like you wouldn't believe. After the [Paul] Felder one, I was like: 'I'm not gonna [do that] again…'
"Here I can be free, be loose, be sharp, be yourself.
"[Allen's] got friends, family [here]; you're never gonna live that down if you get sparked out. I'm sure glad it ain't me who's sat in that spot he's in.
"I'm feeling the right amount of pressure here. Better him than me."
UFC London 2022 media day
Dan Hooker:
"Pressure is like a tap. If I'm not feeling enough pressure, I know the process to turn it on. You need that pressure, it brings out the best in you."
UFC London 2022 media day
Dan Hooker:
"Allen's on the second-longest win streak in [UFC] featherweight history, he just doesn't have that name [on his record] yet."
UFC London 2022 media day
Dan Hooker on New Zealand's restrictions easing and making it easier for him to see his family soon after the fight:
"The type of fights that I get into, it's not one or two days on the couch then you're okay; sometimes it can take months.
"But I'm gonna go and get myself in a firefight, I'm gonna gunsling. If it's a knockdown, drag-out for 15 minutes, I can deal with that. If I slip on a banana and get in some trouble, I can deal with that, too."
UFC London 2022 media day
Dan Hooker on potentially fighting teammate Alexander Volkanovski, for the title or otherwise:
"We'll cross that bridge when we come to that, but there's a lot of work to be done before that's even a conversation that needs to be had.
"That's a problem that's good to have: You and your mate are so good that you guys have to decide who's the best in the world."
On Volkanovski's upcoming defence against the "Korean Zombie" Chan Sung Jung:
"Korean Zombie gets hit too much, Alex hits too hard, you put two and two together: Korean Zombie gets knocked out."
UFC London 2022 media day
Dan Hooker:
"There's a handful of people in the world who know the real reason [why I moved to lightweight originally], but I'll keep that to myself.
"[At that time] I also moved back to New Zealand. I look at my first run at featherweight as an internship, lightweight as work experience, but now I'm a professional with all that experience and technical knowledge.
"It'll be hard to deny that whoever walks away from this fight with their hand raised will be set for something big. The title is tied up for the rest of the year, but [whoever wins this] is up there.
"Mainly [Allen's] fought short, stocky wrestlers who've tried to take him down. That's not me! He may be able to deal with a tall, rangy guy quite well, but we'll have to wait and see…"
UFC London media day
First up is Dan Hooker ahead of his clash with Suffolk's Arnold Allen!
Hooker is dropping back to featherweight after a long stint at lightweight.
"Weight-cut easy, jet lag hard! People are hammering on about the weight and getting down to 145lbs, but the jet lag is wearing off so I'm getting better and better. But the weight is in the back of my mind.
"These guys [I'm working with] are hands down the best in the world in this particular field. It's gonna be as seamless as possible. I'm eating what I'm supposed to be eating, sleeping when I'm supposed to be sleeping. I'm a professional. That's made this easy."
UFC London media day
The UFC returns to London on Saturday after a three-year absence caused by the Covid-19 pandemic.
The 2020 edition of the event was cancelled at the last moment as the pandemic took hold in the UK, and no card was staged in 2021. Finally, UFC London returns to the promotion's calendar, however, with Wigan's Tom Aspinall headlining at the O2 Arena against veteran Alexander Volkov of Russia in a heavyweight bout. In the co-main event, fan favourite Dan Hooker drops from lightweight back to featherweight to take on Suffolk's Dan Hooker, while Liverpool's Paddy Pimblett – one of the UFC's rising stars – is also in action, facing Rodrigo Vargas.
Pimblett was involved in a scuffle with Ilia Topuria, who is also on the card at the O2 Arena this weekend, at the fighter hotel on Tuesday evening, so it will be interesting to see whether tempers flair again as the week progresses.
Registration is a free and easy way to support our truly independent journalism
By registering, you will also enjoy limited access to Premium articles, exclusive newsletters, commenting, and virtual events with our leading journalists
{{#verifyErrors}} {{message}} {{/verifyErrors}} {{^verifyErrors}} {{message}} {{/verifyErrors}}
By clicking 'Create my account' you confirm that your data has been entered correctly and you have read and agree to our Terms of use, Cookie policy and Privacy notice.
This site is protected by reCAPTCHA and the Google Privacy policy and Terms of service apply.
Already have an account? sign in
By clicking 'Register' you confirm that your data has been entered correctly and you have read and agree to our Terms of use, Cookie policy and Privacy notice.
This site is protected by reCAPTCHA and the Google Privacy policy and Terms of service apply.
Source: Read Full Article