Vitality Netball Superleague Round 6 preview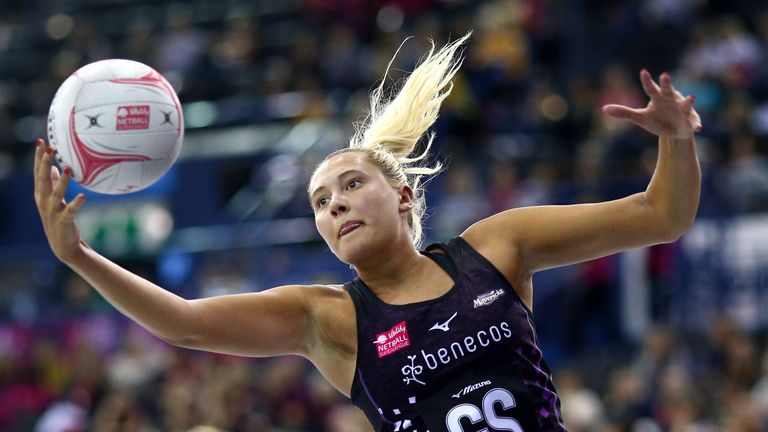 With Round 6 of the Vitality Netball Superleague on the horizon we dive into the detail of all five matches including our live Saturday fixture on Sky Sports.
Wasps head into the weekend's netball action at the top of the table thanks to their hard-fought win over Saracens Mavericks in front of the Sky Sports cameras on Monday evening.
Thunder remain hot on the defending champions' heels – second only on goal difference.
Elsewhere, strong wins for Surrey Storm and Team Bath contrasted with the close duel that took place between Strathclyde Sirens and Celtic Dragons.
Once again third-quarters proved to be decisive and they'll have been the topic of many tactical discussions this week and play a strong part in coaches' thinking when it comes to selecting their starting seven and benches.
This weekend the Sky Sports team are off to join Kat Ratnapala's Saracens Mavericks to see if they can banish all thoughts of their recent loss and get back to winning ways with Team Bath standing in their way.
Manchester Thunder vs Loughborough Lightning, Saturday at 5pm
Have any @thundernetball fans spotted the billboards dotted around the city? #netball #superleague #manchester ??? pic.twitter.com/95l8ScgtuC
Manchester Thunder came out of Round 5 with a 62-49 victory over Severn Stars, however Thunder felt the pressure from their hosts during the match.
A single-goal lead was the result of the first 15 minutes and midway through the second-quarter Karen Greig decided to ring the changes. Joyce Mvula arrived at GS with Ellie Cardwell moving to GA and it had the desired impact.
Thunder enjoyed a seven-goal 29-22 half-time lead and carried their momentum through to put them in a positive position. However, they didn't reach the heights that they wanted to in the final quarter.
"We were just wasteful in attack, which is really disappointing to see and a really disappointing last quarter when we should have seen out the game comfortably," said Greig post-match.
"We need to look at our connections in training this week as our game against Loughborough is not going to be an easy one."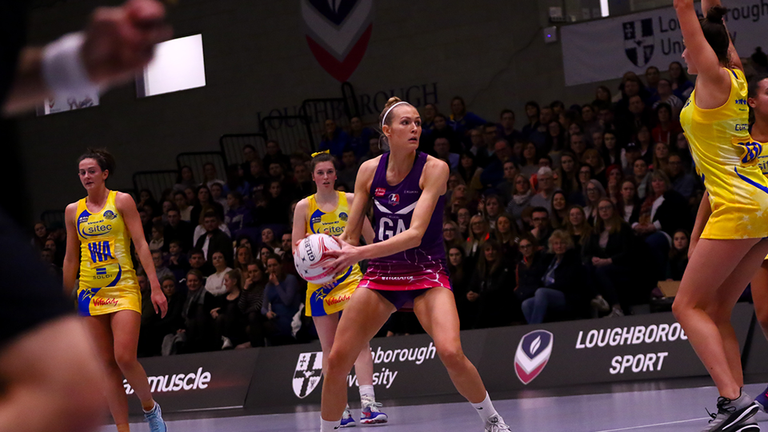 Lightning had a tough day at the office against old-rivals Team Bath and finished on the wrong end of a 75-50 result.
Personnel changes weren't enough to combat the clinical away team and Loughborough's director of netball Sara Bayman expressed her frustration after the match.
"We were really poor tonight, I'm sure the girls are disappointed. We had a talk at half-time about wanting to put out a better second half which we did in patches but not enough," said Bayman.
"Bath are a strong side, and we expected it to be tough but we want to be better than we were tonight."
Lightning face back-to-back away games now so will have to re-group the hard away.
Severn Stars vs Surrey Storm – Saturday at 6pm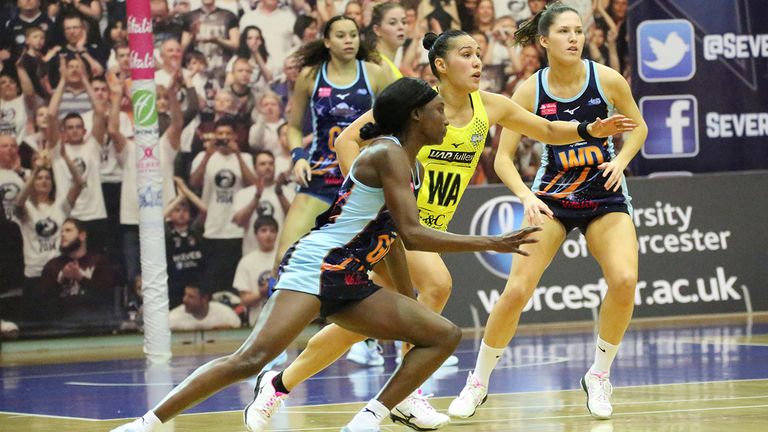 This week, Stars head coach Sam Bird is keen to implement a number of "new strategies" and ride on the power of home support.
"We will be looking to expand the periods of very good play we put out against Manchester Thunder on Saturday. We have been working on our strategies to give ourselves the best chance to perform strongly against Storm and we are looking forward to the match", said Bird.
"The last game at Gloucester was great in terms of the crowd being very close to the courtside and creating a great atmosphere for us to play in. We hope to use the home support to our advantage this week."
Equally captain Maryka Holtzhausen has sighted delivering their game plan with clarity and she'll be facing some familiar South African faces on court.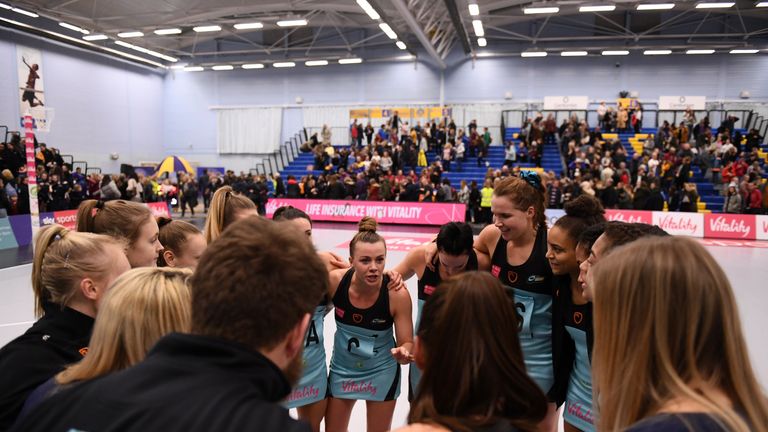 "A good aim is continued improvement, sticking to structures and implementing the game plan each week. If we stick to what we do best the results will speak for themselves," said Holtzhausen.
Mikki Austin continues to take the combination of management and playing in her stride as she led her side to a 69-49 away win against London Pulse in Round 5.
"A lot of training effort that was shown on court tonight, very proud of this bunch who continue to improve week on week," said Austin post-match.
Storm will be aiming to make it back-to-back away wins but Stars have shown they are a defensively a strong team that's able to put pressure on confident squads. It's set to be a testing match for both sides.
Saracens Mavericks vs Team Bath Netball, Saturday at 6pm – Live on Sky Sports Mix and Action from 5.45pm
Another week and another top tier battle for Mavs as they take on Bath this weekend, live on Sky Sports.
Bath rebounded from their loss to Storm with a head-turning win over Lightning whilst Mavs failed to disrupt Wasps for the full 60 at the Ricoh Arena.
The Blue & Gold were praised by head coach Anna Stembridge after their win, stating it was a "performance to be proud of".
The 75-50 victory over Lightning was their team's biggest winning-margin so far but the side aren't resting on their laurels and understand just how competitive each round will be.
"We have done our homework and will be looking to put out a well-thought-out game plan for the full 60 minutes," noted Stembridge.
"Mavericks are creative and athletic in attack and are rangy and deceptive in defence, so we will have to be smart with our approach. We're looking forward to the match, it should be a good contest."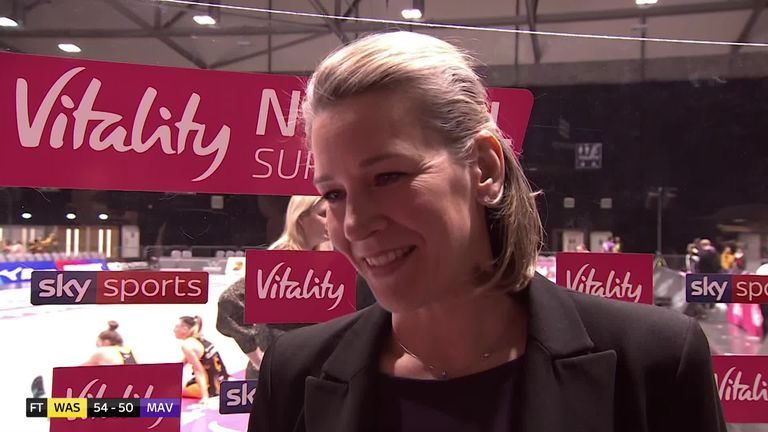 The first meeting between the iconic names of Saracens and Wasps on a netball court was always going to provide fireworks and it did as a physical contest played out at the Ricoh Arena.
Despite Wasps taking the win, Mavs showed their metal. A weaker third quarter proved to be their undoing, though, despite a notable performance from George Fisher throughout.
Fisher was returning to her old club and showed the type of form that saw her named the 'Vitality Player of the Month' for January – a new award from the league that will run throughout the 2019 season.
Celtic Dragons vs Wasps Netball, Monday at 7pm
Wasps were given the "toughest test yet" against Mavericks according to their head coach Mel Mansfield and once again the difference arrived in the third set of 15 minutes.
Mansfield nailed her tactical changes by bringing on Fran Williams at GD and player of the match Sophia Candappa at WA.
"We've had strong third-quarters in each of our last three games and that shined through again," said the head coach.
"In training we have been working hard on our fitness levels and maintaining performance levels. Having a tight game like this will be really good for us, the team will have learnt a lot about themselves."
SOLD OUT | We have a full house for Monday's game against @Wasps_Netball ‼️??
Don't worry if you've missed out, we have 6️⃣ other home games to choose from, including half-term's game against @thundernetball
on Mon 25 Feb! ?
?? https://t.co/crx1yowfu5#WeAreDragons ? pic.twitter.com/hOZdpngAKf
Celtic Dragons got back to winning ways as they secured their second victory of the season by 50-46 on the road at Strathclyde Sirens.
The Welsh side won just two games all term last season so clearly are developing under the guidance of Tania Hoffman.
"We feel confident, we are now training really hard and the structures have changed this year but not only that it is a completely new culture, new coach so it's definitely positive," said Chelsea Lewis.
However, that confidence will be tested to the max this round as they're facing a powerful and hungry Wasps outfit.
London Pulse vs Strathclyde Sirens, Monday at 7.30pm
Superleague newcomers London Pulse find themselves bottom of the table after suffering a 69-49 defeat to Storm in Round 5.
It's a place no team wants to be and they'll be another side looking to home comforts in order to help deliver a victory.
Our captain @amaagbeze sheds light on Saturday's result and looks ahead to our next fixture ? #makelondonsuper pic.twitter.com/Mc4cvbmvgP
In the last round, injured captain Ama Agbeze watched from the sideline and found that difficult to do.
"It's quite frustrating as we've talked about things in training and we don't always do them," said Agbeze.
"We turn over a lot of ball but we rarely take it down and score. So it's just frustrating also not to be able to play and have an effect on it."
Nowhere else in Scotland do you see this volume of women and girls turning out each week to support a women's sports team. So proud of what we're doing #humble #loveourfans #netballontherise #changingthegame #sportissport https://t.co/NNag9wf6N4
Despite the vocal backing last week, Sirens also suffered a defeat leaving them ninth in the table.
Sirens were unable to convert a single-goal lead at the interval into a victory against Dragons. But, the physicality and between the two gave fans a gripping watch as possession was fiercely contested throughout.
Watch more Vitality Netball Superleague action when Saracens Mavericks host Team Bath Netball on Saturday February 16, live on Sky Sports Mix and Arena from 5.45pm. Also, Sky Sports will be showing every game of the 2019 Vitality Netball World Cup in July.
Source: Read Full Article