While Tomi Juric told him he must come for the crowds, Markus Babbel confesses the challenge of restoring Western Sydney to their former A-League glory was also too tempting to resist.
The Wanderers have pulled off a coup, securing Babbel for three years after a month hunting for a successor to sacked coach Josep Gombau.
With the 2014 Asian Champions League winners crying out for rejuvenation, the ex-Bayern Munich and Liverpool defender arrives in Australia boasting success with German sides Hertha Berlin, Hoffenheim and VfB Stuttgart.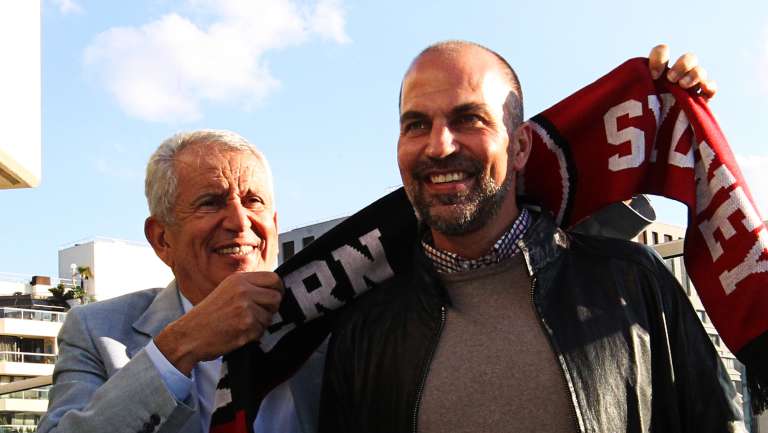 Welcome: Western Sydney Wanderers chairman Paul Lederer gives Markus Babbel a club scarf.
Most recently the 45-year-old, capped 51 times for Germany, managed Socceroos and former Wanderers striker Juric at Swiss outfit FC Luzern. And he revealed his former subject played a part in his decision to leave Europe.
"One of the biggest points why I came here to Sydney is because Tomi Juric was saying the crowds are totally crazy," Babbel said in Sydney on Saturday. "Switzerland was a good time there but the supporters are very quiet and not so many in the stadium.
"Now I'm looking for good support and to see what is possible with the team. I wanted a new challenge because I know Germany and now Switzerland and of course England as a player and I wanted to do something different."
And it will be a great challenge given the upheaval under Gombau, who was thrust into the position mid-season following Tony Popovic's untimely resignation. But Babbel knows what it takes to win, having claimed three Bundesliga titles and the 1996 UEFA Cup with Bayern, along with the 2000-01 treble with Gerard Houllier's Liverpool. He also coached Hertha to Bundesliga promotion and qualified Stuttgart for Champions League football.
Unveiled: The former German international was announced to lead the Wanderers rebuild on Saturday.
Babbel's decorated playing career and managerial pedigree will command the respect of a still somewhat fractured dressing room. And, just as crucially, he appears to have separated himself from his predecessor by voicing a willingness to adapt his playing style based on the personnel available.
"First I have to meet the players to see what is the strengths of the team," Babbel said. "Of course I like to have the ball but you need the players for this. If not, we have other tactics. We have enough time to find out what is the best system and style of play."
Another factor in Babbel's favour is a luxury never afforded to Gombau – an entire pre-season to implement his philosophy.
"The vision here is to have big success," he said. "I know it isn't an easy league but we want to be on the top."
Chief executive John Tsatsimas said Babbel was the "perfect fit".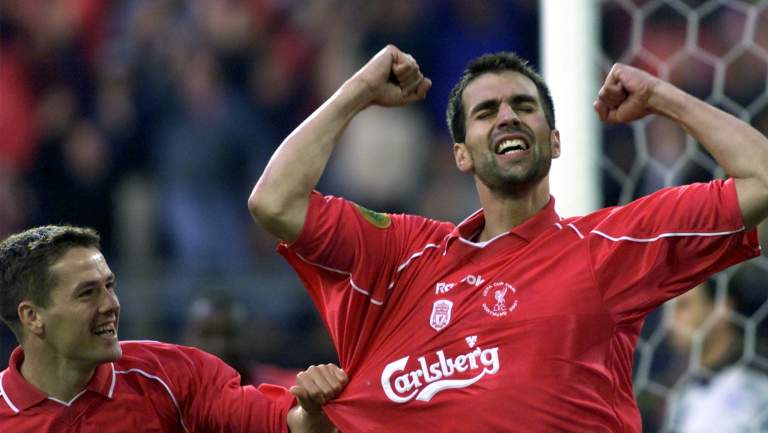 Heyday: Babbel, here for Liverpool, comes with great pedigree as a player and a manager.
"The way Mark thinks equates with how we see our club," he said. "There is a lot of synergy in terms of what we presented and how he saw things."
Wanderers chairman Paul Lederer labelled the arrival of Babbel as "a statement about our future".
"In the next 18 months we will have our new training facility finished, our new stadium open and our club ready to take another giant," Lederer said. "Having a coach like Markus involved with this club will make us a force in this league as we strive to win trophies, return to the AFC Champions League and make a statement, not only in Australia, but internationally."
Babbel will complete a holiday with his family and return for pre-season.
Source: Read Full Article