Australian coach Justin Langer hopes a winless tour of England has not left his players dealing with mental scarring after several struggled to have an impact in an unforgiving cricketing "jungle".
The joy of last summer's Ashes series victory has quickly dissipated amid the ball-tampering scandal in South Africa and wretched form in the 50-over format a year out from the World Cup.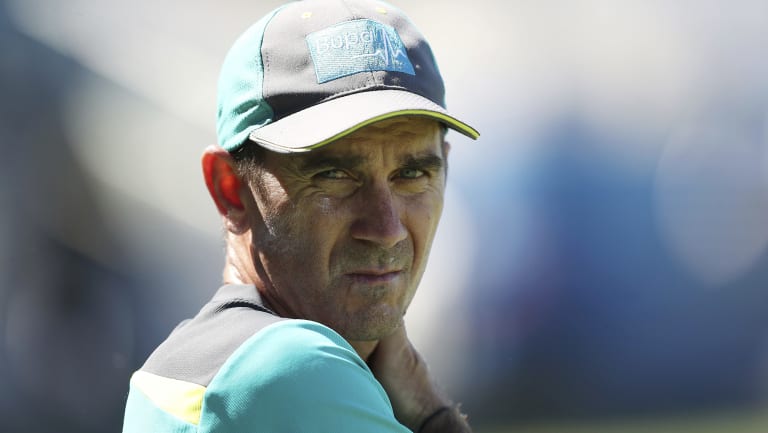 Australian coach Justin Langer.
There were mitigating circumstances in England – injuries to frontline quicks Mitchell Starc, Pat Cummins and Josh Hazlewood and all-rounder Mitch Marsh have hurt – while the absence of suspended pair Steve Smith and David Warner, readying themselves for a Twenty20 league in Canada, has hurt at the top of the order.
Having been beaten in a 5-0 whitewash in the one-day series, the tourists were humbled by 28 runs in the one-off Twenty20 clash at Edgbaston. In response to the home team's 5-221, Australia was bowled out for 193, with only skipper Aaron Finch (84 off 41 balls) having a major impact with the bat.
The tourists now head to Zimbabwe for a Twenty20 tri-series, also involving that format's No.1 ranked side Pakistan, with Langer needing to find a solution ahead of Monday's opening match.
"I knew it was going to be a big job, knowing where we came from in South Africa. On the surface it looks like a complete disaster but we have talked about building a team that's going to be ready for the World Cup and the Ashes and I think we have unlocked a few answers," he said.
Australian cricket has long prided itself on being ahead of the curve in terms of the way the game is played, while also insisting it has had enviable depth. That does not appear to be the case now, for England's ruthless commitment to power-hitting, sharpened by a focus on winning the World Cup at home next year, has exposed a lack of class in the Australian attack and also the team's more defensive attitude with the bat.
So dominant was England that Langer even raised the concerns about "scars" – something the Australian teams he played in inflicted on many an opponent.
"Hopefully, it will add some layers to their character and not scars. We'll find out (about their character) and for a lot of them, the facts and the reality are that they are very inexperienced," he said.
"In a perfect world you bring a couple of your best young players into an experienced team. We just haven't got the luxury of doing that at the moment.
"A few of the boys have walked into the jungle and we'll see how they go, not only over the next six months, but over the next two or three or 10 years."
Lanky quick Billy Stanlake impressed at times with his pace but Kane Richardson, Jhye Richardson and Andrew Tye did not provide what had been hoped in one-day series. In the T20 clash, Kane Richardson conceded 0-59 – the second-most expensive figures by an Australian. Only Tye (2-64 against New Zealand in Auckland in February) had a worse return. That Mitchell Swepson was handed his international debut was a sign of attacking intent, and the Queensland leg-spinner, presented with his cap by Ricky Ponting, claimed 2-37.
The batting was a familiar tale, the middle order unable to get going against spin. Leg-spinner Adil Rashid tortured the tourists with 12 wickets in the one-day series – he backed up with 3-27 in the T20 clash.
Australia will have four T20s in Zimbabwe in a tournament thathas replaced what originally was to be a Test series against the host nation. Regardless of their form there, Langer believes Australia's World Cup defence, beginning in May next year, remains alive.
"If Steve Smith and David Warner and Mitch Marsh, Pat Cummins, Josh Hazlewood and Mitchell Starc come back in, all of a sudden you've got 800 games of experience again and we've got a lot more experienced team," he said.
"If some of these young guys who are gaining some experience here, or the guys who have taken it up – Shaun Marsh in the one-day series, he scored two hundreds, Ashton Agar has been really good with the ball and shown a lot with the bat, Billy Stanlake has had some good games – if we can get some of those guys learning and growing, and if some of the other guys are available, who knows what could happen in 12 months' time? It's a fact of life, we don't know what's going to happen in 12 months."
Source: Read Full Article