Teenager Nick Shipley will become the first western Sydney graduate of the Giants academy to play senior football for the club when he makes his AFL debut against Brisbane on Saturday.
Shipley, the 64th pick in last year's draft, is one of two ins for Greater Western Sydney, who have lost star forward Toby Greene to a foot injury.
The Campbelltown youngster grew up aspiring to be a professional footballer in the round ball code but will now be a posterboy for the league's push to grow the game in NRL heartland.
Historic: Western Sydney teen Nick Shipley will play for GWS, their first academy graduate.
Shipley, whose boyhood hero was Socceroos star Tim Cahill, had dreams of pulling on the sky blue of Sydney FC and making it big in Europe. If not for the Giants, he may never have kicked a Sherrin let alone made it to the highest level.
Shipley "had no clue" about the game until he was 13 when the Giants Academy visited his school. His family did not either. The Giants enticed him to an academy carnival in Albury but he quickly lost interest in the game for his first love, soccer.
Two years later, while his passion for the world game was waning, he received an email from the head coach of the Giants academy Jason Saddington asking him to try out for the under 16 side.
"I fell in love with footy," Shipley said. "I knew there was a Swans team but in western Sydney AFL is not a big thing, it's NRL or soccer. I had no clue about it. I watched my first game when I joined the academy."
Shipley soon adopted a side but despite his roots in western Sydney and being a Giants academy boy he chose Fremantle because of Nat Fyfe. "That was his Brownlow year, he was unbelievable," Shipley said. "I wanted to be like him."
He now models his game on gun teammates Callan Ward and Stephen Coniglio, who, like Shipley, are both midfielders.
Shipley's rise to AFL ranks is a milestone moment for the Giants, whose introduction to the league came as part of head office's desire to expand the game into "foreign" markets. The 18-year-old recognises the significance of his debut not just for the club but for the impact it could have on youngsters in the region wanting to try a new game.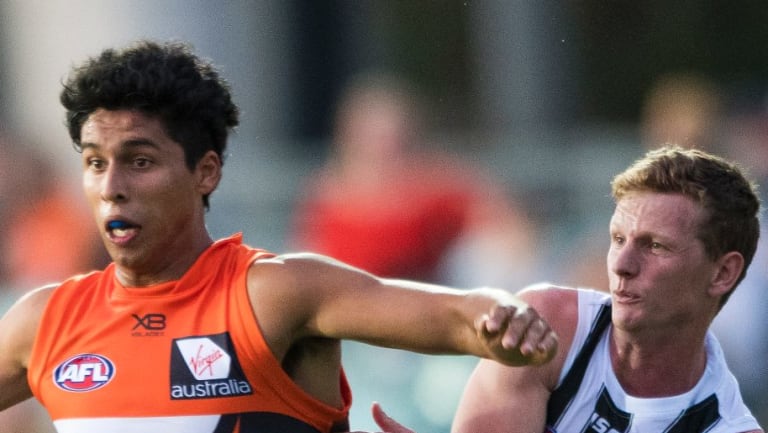 Nick Shipley is the first graduate from the Giants Academy from western Sydney
"It means heaps to the Giants – they're a western Sydney club, they want to target the area," Shipley said. "Me taking up the game and being able to play this early would give them more hope. I started pretty late, if they can start form younger they can be even better."
Shipley's promotion won't hurt crowd numbers either. His mother asked the club for 50 tickets to the game. "I don't know if there are that many in the family," Shipley, whose mother hails from Peru, said. "My parents are happy for me. Mum and dad got a bit teary when I called them."
The Giants made one other change with forward Zac Langdon coming back from injury while ruckman Dawson Simpson has been left out.
Source: Read Full Article