Write off clay ace Stosur at your peril
Tennis Australia's head of performance has declared Samantha Stosur at the crossroads of her stellar career.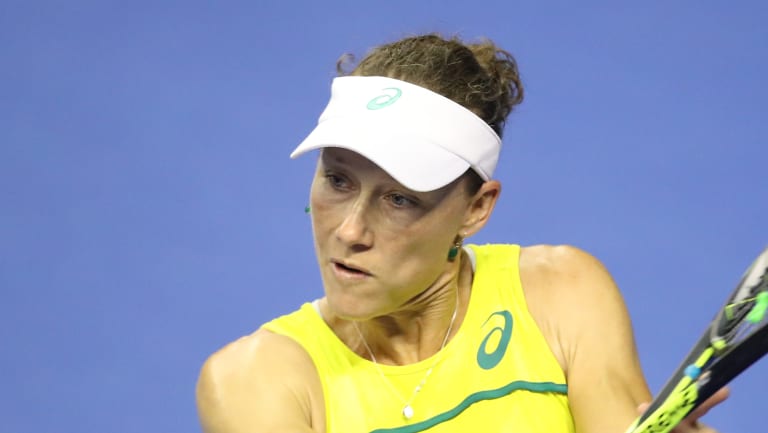 At a crossroads Sam Stosur.
But Wally Masur also believes the 34-year-old can once again challenge for French Open glory if the cards fall her way.
Australia's only grand slam singles winner in over a decade and a half, Stosur enters the clay-court major starting in Paris on Sunday unseeded for the first time since 2008.
Since then, she made the semi-finals four times – most recently in 2016 when she upset now-world No.1 Simona Halep – and lost the 2010 title decider to Francesca Schiavone.
Pointing to the late-career renaissance of Roger Federer and Rafael Nadal, Masur said if Stosur is to enjoy her own Indian summer, it will be at Roland Garros.
"This is her time. There's been very rarely a red clay season where she hasn't played well," he told AAP.
"And I think, without putting too fine a point on it, it's a pretty important time for her.
"She's 60th in the world now, she's got Strasbourg (rankings points) to defend, plus fourth round of the French (last year), so it's kind of game on.
"That puts a little bit of pressure on you going in. But it has, historically, been a great surface for her."
Despite her unflattering ranking, Stosur habitually excels in Paris, where the courts suit her high-spinning forehand and deadly second-serve kicker – especially on hot and sunny days.
In the absence of grand slam heavyweights Serena Williams and Maria Sharapova and other big guns dropping like flies, many were tipping Stosur to reign last year before an untimely stress fracture in her right hand cruelled her chances.
The one-time world No.4 had been leading surprise eventual champion Jelena Ostapenko 4-0 after just 13 minutes in their last-16 clash until disaster struck.
Instead of a thrashing for Ostapenko, the Latvian cashed in on Stosur's misfortune to rewrite tennis history while Australia's former US Open champion wondered what might have been during a near-five-month layoff.
"If she's ever going to win another grand slam, it will be at the French Open," Masur said.
"And if she doesn't fire, there's going to be question marks over her ranking.
"So these are the things that are always in the back of your mind.
"It's different when you're 22 and you've got it all ahead of you.
"But I know Sam can play well on the clay and Sam, traditionally, has played better outside of Australia."
Defending her title in Strasbourg, Stosur was scheduled to face fellow Australian Daria Gavrilova in the second round on Wednesday night in a rematch of last year's final.
AAP
Source: Read Full Article