Bombshell corruption claim about former premier Neville Wran
Sensational new evidence – withheld from a royal commission – throws fresh light on the involvement of former NSW premier Neville Wran in a conspiracy to pervert the course of justice.
The extraordinary details are contained in a new book, Corruption in High Places, written by former NSW chief magistrate Clarrie Briese, who inadvertently became embroiled in one of the nation's biggest judicial scandals.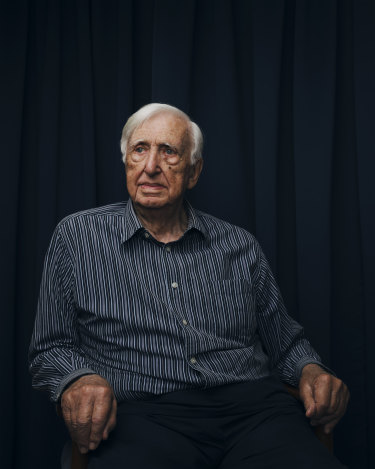 Former chief magistrate Clarrie Briese, author of a new book Corruption in High Places.Credit:James Brickwood
Briese, now 90, recalls his surprise when, in January 1982, he received a call from Lionel Murphy, a judge on the High Court, who uttered the infamous words, "And now, what about my little mate?"
The judge was referring to his pal, Sydney solicitor Morgan Ryan. Known as the Mr Fixit for organised crime, Ryan was facing a committal hearing over an immigration racket.
Before the Ryan decision was handed down, District Court judge John Foord met Briese, then the chief magistrate, at the Tattersalls Club. The judge told him "Neville [Wran] wants something done for Morgan Ryan."
A year later, in April 1983, the ABC's Four Corners program dropped a bombshell suggesting Mr Wran had conspired with Murray Farquhar, Briese's predecessor, to have the embezzlement case against rugby league boss Kevin Humphreys dismissed.
The 1977 photograph that dogged Chief Stipendiary Magistrate Murray Farquhar for years shows him (far right) at the races with Dr Nick Paltos (later sentenced for dug importations) and crime boss George Freeman (far left.)Credit:SMH
Wran immediately announced he was suing the ABC for defamation. In his book Briese recalled Chief Justice Sir Laurence Street called him to criticise the ABC's program, saying "Wran will get a seven-figure sum."
After the program aired, Magistrate Kevin Jones made a written statement confirming that Farquhar had told him on the morning of August 11 that the premier wanted the Humphreys charge dismissed. After the second day of the hearing, Jones complied with the request from on high.
Briese recalls being "surprised" when, following Jones's bombshell, a royal commission to be headed by Sir Laurence was announced. Under secretary of justice Trevor Haines told Briese that the terms of reference "would be smaller than the eye of a needle, and that's pretty small".
Magistrate Kevin Waller gave evidence that he was with Chief Magistrate Farquhar when Farquhar's secretary said, "The Premier is on the phone".
Not long after, Waller ran into Jones, who was shaken and upset. Jones told him Farquhar said, "Wran has been on the phone" and that the government did not want Humphreys committed for trial.
Farquhar's deputy also gave evidence that Farquhar directed him to put Jones on the Humphreys case and that Wran didn't want him committed.
"A little angry," said Neville Wran after the royal commission report exonerated him.Credit:Paul Mathews
While Farquhar ended up in jail over the matter, the royal commission completely exonerated Wran, finding there was no evidence Farquhar was doing the premier's bidding or that Wran had ever phoned him.
However, in his book Briese drops a bombshell, revealing that Wayne Evans, then a police prosecutor (later a magistrate) was at Central Local Court at 3pm on the day of Humphreys' committal when he saw Premier Wran in the court car park standing by the Ford Falcon belonging to Chief Magistrate Farquhar. A little later he saw Wran go through the back entrance into the court complex.
Another prosecutor also saw Wran at the court that day. Evans made a note of their sightings and the other prosecutor witnessed his signature.
Evans mentioned the sighting of the premier to other people and the following morning the detective in charge of the Humphreys matter was heard yelling and swearing "that f… Wran is trying to interfere with my brief."
Darcy Cluff, the police prosecutor in the Humphreys' case, told Briese that Humphreys' legal team told him on the first day of the committal that they were considering calling the premier as a character witness. Cluff, who later became a chief superintendent, told the solicitor, John Aston, he would treat Wran as he would any other witness.
When the royal commission was announced, Evans immediately made a statement which he gave to a senior officer to pass onto authorities. He knew his potentially explosive information implicating the premier would be vital evidence. But Evans was never called to give evidence and royal commission staff later said it was never received. Cluff was called, but he wasn't asked about Wran being a potential character witness.
Judge Lionel Murphy was acquitted of attempting to pervert the course of justice at his second trial. Credit:Robert Pearce
If Briese was worried about corruption in high places following the Wran Royal Commission, his suspicions were soon confirmed with the 1984 publication of The Age Tapes, illegal NSW police phone taps showing worrying links between organised crime and the highest levels of the police, the judiciary and politicians.
Briese recounts persuading Liberal MP Bruce Baird to pass him the transcripts of the tapes.
He was horrified at their contents. From the recorded conversations he realised straight away that Murphy had attempted to pervert the course of justice by seeking to influence the outcome of Ryan's case.
Briese alerted authorities to the infamous conversation with Murphy who, two years earlier, had asked him what could be done for his "little mate".
Briese was the Crown's chief witness against Murphy, the former attorney-general in the Whitlam government. At his first trial Murphy was found guilty, appealed and was acquitted at his second trial.
Three days after his acquittal, the Stewart Royal Commission reported that The Age Tapes were genuine. This prompted a further inquiry into the High Court judge which was terminated due to Murphy's terminal illness. He died in October 1986.
Morgan Ryan was convicted of conspiracy in 1983. He appealed, a new trial was ordered but the matter was no-billed. Humphreys was later convicted over the fraud charges.
Premier Wran, who had waged a ferocious war against Murphy's critics, in particular Briese, whom he tried to have removed from the judiciary, resigned suddenly in July 1986.
Corruption in High Places, available from Booktopia, details a conversation Briese had with his colleague Waller, long before the Four Corners program aired. Waller was adamant that one day Wran and Farquhar were going to jail. "He was 50 per cent right," said Briese.
Start your day informed
Our Morning Edition newsletter is a curated guide to the most important and interesting stories, analysis and insights. Sign up to The Sydney Morning Herald's newsletter here, The Age's here, Brisbane Times' here, and WAtoday's here.
Most Viewed in National
From our partners
Source: Read Full Article