Boris Johnson still in box seat for British PM job as eyes turn to 'spy' rival
London: Boris Johnson has edged closer to 10 Downing Street with another dominant win in the Conservative leadership contest, again outscoring his three nearest rivals put together in a knockout round of voting by Tory MPs.
Four of his colleagues are still in the running to go to a head-to-head ballot of party members against Johnson, after former Brexit Secretary Dominic Raab was eliminated.
But the surprise package of the round proved to be Rory Stewart, the International Development Secretary who appears to be gathering momentum among the 'soft Brexit' party centrists. He picked up 18 new supporters from the last round, more than any other candidate.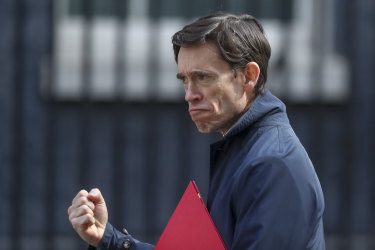 The surprise package of the round proved to be Rory Stewart.Credit:Bloomberg
Stewart hit headlines on Tuesday with attention focused on his murky past. He is reported to have spent seven years working as a spy for the British government in countries including Indonesia and Montenegro.
But he has denied this. He told BBC radio he had "served his country" but asked if it was as an intelligence operative he replied "I would say no", adding that people should have "the very, very clear understanding that I stopped working in embassies and for the government proper in 2000" and from then was "no longer part of the system".
If Stewart was a former spy, he would be under a legal and moral obligation not to confirm it.
Earlier in the campaign Stewart confessed he may have smoked opium at a wedding in Iran 15 years ago.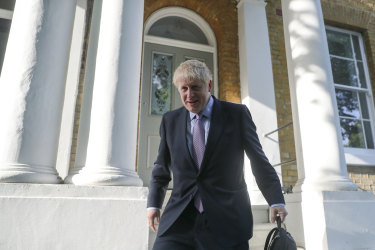 Boris Johnson leaves his home on Tuesday.Credit:Bloomberg
MP Tobias Ellwood, defence minister and a Stewart supporter, said his favoured candidate had won admirers beyond the party and would force Boris to "raise his game".
"We need to tap that Rory Stewart energy if we are to succeed," he said.
Stewart came fourth in the vote with 37 votes after Johnson on 126, Foreign Secretary Jeremy Hunt on 46 and Environment Secretary Michael Gove on 41, but ahead of Home Secretary Sajid Javid on 33 and Raab on 30.
Most of the eliminated Raab's votes are expected to go to Johnson or Gove, as he was a proponent of a 'hard' Brexit.
Johnson gained 12 new supporters compared to round one, though he may have more who have clandestinely switched in the secret ballot: there was speculation on Tuesday that his team deployed some supporters to vote tactically to prop up rivals they believed he could easily beat in the membership vote.
The next MPs' voting round is on Wednesday afternoon, UK time. There will be another two rounds on Thursday, if necessary.
Once two candidates remain there will be a postal ballot of Conservative party members to choose their leader – and the country's prime minister.
Source: Read Full Article