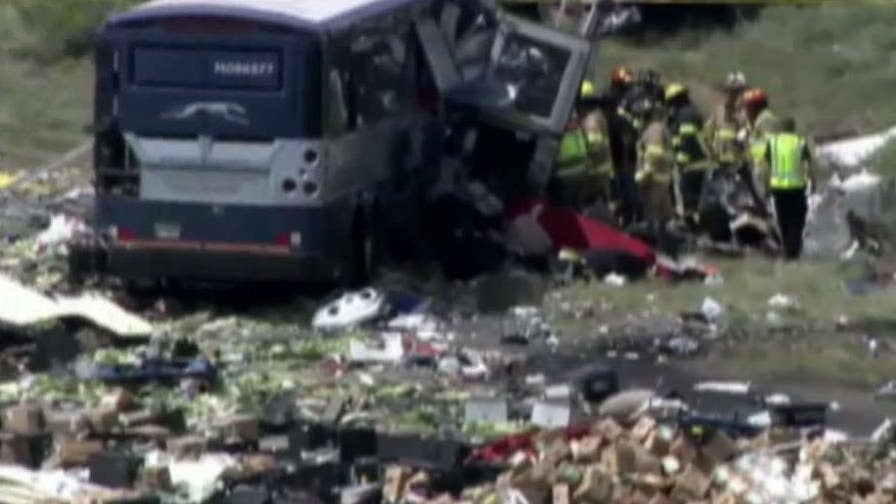 Fatalities in crash involving bus and semi in New Mexico
Authorities in New Mexico report multiple fatalities and serious injuries in a crash on Interstate 40 involving a Greyhound bus and a semi-truck.
New Mexico State Police say they have confirmed seven fatalities in connection with Thursday afternoon's bus crash on Interstate 40.
Previous reports said at least four people were killed when a semi-tractor trailer experienced "a tire blowout" and ultimately collided with a Greyhound passenger bus.
"Many bus passengers were transported with serious injuries," the tweet said.
Authorities said that "multiple serious injuries" also occurred.
Twenty patients were treated at Gallup Indian Medical Center, according to Dr. Kevin Gaines, acting chief medical officer at the hospital. Of the 20, four were children but no ages were immediately available.
Six patients were treated and sent to the University of New Mexico Hospital, four were transported to Banner Hospital in Phoenix and 10 were still being treated at Gallup. Conditions of those being treated at Gallup ranged from good (two patients) to serious (two) and critical (one).
At least 47 passengers were riding on the Greyhound bus that was heading from Albuquerque, with at least one scheduled stop in Phoenix, the company told the Associated Press.
The passenger bus involved in the accident experienced front-end damage, while a semi-truck was discovered lying on its side. Video also showed debris scattered about the roadway and emergency responders at the scene.
A witness described the incident as "horrible," telling KRQE that "screams were coming from the bus."
"It was horrible there was people trying to climb out of the windows of the bus… bystanders trying to help people getting ladders out of their truck to get to windows of Greyhound bus to assist," the witness told the outlet. "When we went by the overturned semi, everything in the trailer was out on the road. It was a disaster…you could tell people were in distress, screams were coming from bus."
The National Transportation Safety Board (NTSB) tweeted that they were sending a team to investigate.
Road closures near Thoreau occurred as a result of the crash, state police said, telling the public to "expect delays."
The McKinley County Emergency Management set up a phone line "for family members of passengers looking for information on their relatives," police said. The number is (505) 722-2002.
The Associated Press contributed to this report.
Source: Read Full Article