Washington: President Donald Trump has again contradicted US intelligence agencies, saying that Russia was not still targeting the United States, and accusing his critics of being deranged.
The day after he tried to quiet a political uproar over his failure to confront Russian President Vladimir Putin during their Helsinki summit for Moscow's 2016 election meddling, Trump adopted his usual defiant posture and dismissed assessments of Russia from the intelligence community.
Replay
"We're doing very well, probably as well as anybody has ever done with Russia. And there's been no president ever as tough as I have been on Russia," Trump said before a Cabinet meeting at the White House, adding that Putin "understands it and he's not happy about it."
Asked by reporters whether Russia was still targeting the United States, Trump shook his head and said, "No."
US intelligence officials have said Russian election interference efforts are continuing and now target the upcoming congressional elections in November.
Trump's comments followed a series of early morning Twitter posts on Wednesday in which the Republican president said his heavily criticised summit with Putin would eventually produce "big results" and accused his critics of "Trump Derangement Syndrome."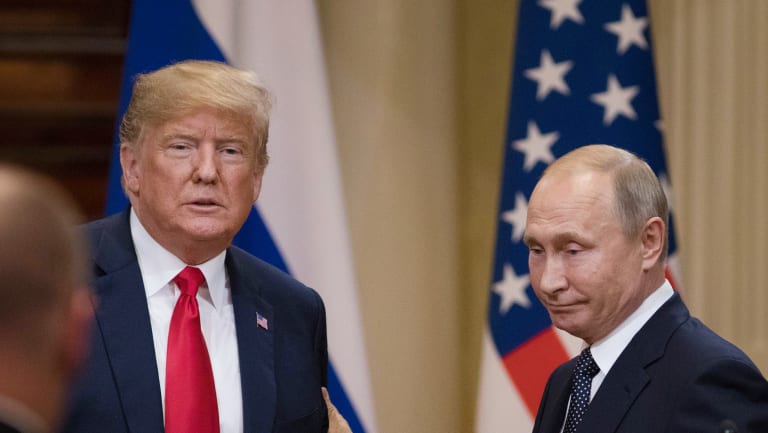 Donald Trump, left, and Vladimir Putin prepare to leave following a news conference in Helsinki.
"Some people HATE the fact that I got along well with President Putin of Russia. They would rather go to war than see this. It's called Trump Derangement Syndrome!" the president wrote.
Trump has faced bipartisan fury at home since the summit in Finland.
Critics have accused him of siding with Russia over his own country by failing to criticise Moscow for what US intelligence agencies last year described as Moscow's interference in the 2016 election in an attempt to sow discord, aid Trump's candidacy and disparage Trump's Democratic opponent Hillary Clinton.
Putin has denied allegations of election interference.
The White House denied later that Trump said on Wednesday that Russia was no longer targeting the United States, claming his answer "no" was about taking further questions not about potential interference in US elections.
"The president … was saying 'No' to answering questions," White House spokeswoman Sarah Sanders said at a news briefing later. "The president and his administration are working very hard to make sure that Russia is unable to meddle in our elections as they have done in the past."
Meanwhile, members of Congress from both parties have suggested possible legislation to toughen US sanctions against Russia and enhance election security ahead of November's midterm voting.
On Twitter, Trump said he had received praise for his news conference with Putin.
"So many people at the higher ends of intelligence loved my press conference performance in Helsinki," Trump said on Twitter. "We got along well which truly bothered many haters who wanted to see a boxing match. Big results will come!"
Special Counsel Robert Mueller, investigating Russia's role in the 2016 election, is looking into whether Trump's campaign colluded with Russia, an allegation the president denies.
Reuters
Source: Read Full Article