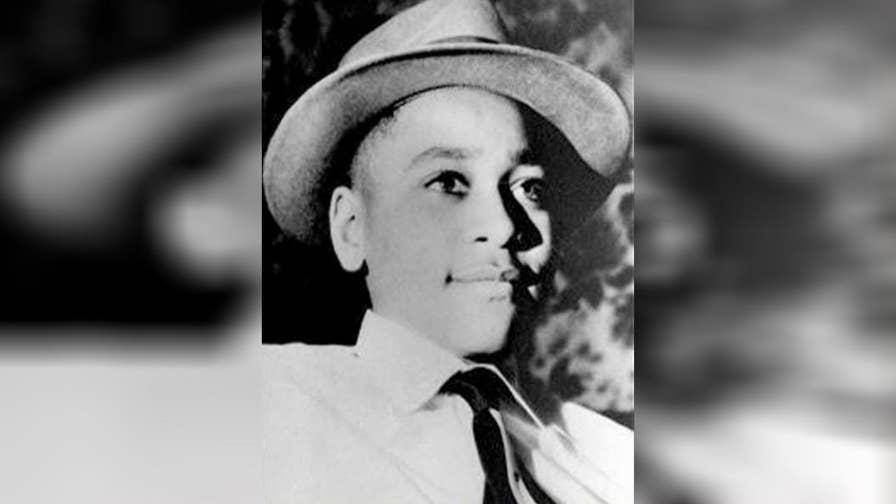 Emmett Till killing case reopened over 'new information'
Federal prosecutors reopen their investigation into the brutal 1955 slaying in Mississippi.
More than six decades after Emmett Till was savagely killed in a racially-motivated attack in Mississippi, a woman whose photograph he apparently boasted about to his murderers is speaking out for the first time.
Till, a 14-year-old boy from Chicago, was kidnapped in 1955 from his uncle's home in the town of Money and killed after he allegedly wolf-whistled at Carolyn Bryant Donham, a shopkeeper.
Two men – Donham's then-husband Roy Bryant and his half-brother J.W. Milam – were charged with murder but acquitted in Till's slaying. The men later confessed to the crime in an interview with journalist William Bradford Huie for Look magazine, but weren't retried and are now dead.
In the 1987 documentary "Eyes on the Prize," Huie told filmmakers that Till's murderers "killed him because he boasted of having a white girl and showed them the picture of a white girl in Chicago," according to the Clarion Ledger.
The producer of the documentary, Henry Hampton, told NPR that Till showed the photo of the girl to friends in Mississippi claiming it was "his girlfriend." "In fact, it was his classmate," Hampton told NPR.
That girl turned out to be Joan Brody, who told the Clarion Ledger she ended up as Till's classmate at an integrated school because Chicago Public Schools kept fewer schools open in the summer and she needed more credits to attend another school where her family was moving.
"I want people to know that he did go to an integrated school and that he was a nice kid," she told the Clarion Ledger. "He was not the kid he was made out to be."
During the trial in 1955, Donham claimed that Till grabbed her by the waist, uttering an obscenity and mentioned something he had done "with white women before."
Brody told the paper she didn't know him to act that way.
"He wasn't a smart-alecky kid," she said. "He wasn't a person to smart off to a white woman or any woman."
Undated file photo shows Emmett Louis Till, a 14-year-old black Chicago boy, who was kidnapped, tortured and murdered in 1955 after he allegedly whistled at a white woman in Mississippi.
(AP)
Three days after Till was kidnapped, his mutilated body was found in the muddy Tallahatchie River, weighted down with a cotton gin fan. His left eye was missing, and his right eye was dangling on his cheek. The body was identified only by a ring he was wearing.
EMMETT TILL KILLING REOPENED BY GOVERNMENT OVER 'NEW INFORMATION'
"He could have been president," Brody told the Clarion Ledger. "He was just a nice kid with a nice smile."
In July, a Justice Department report to Congress said the agency is reinvestigating Till's slaying after receiving what it called "new information."
In this Sept. 23, 1955, file photo, J.W. Milam, left, his wife, second left, Roy Bryant, far right, and his wife, Carolyn Bryant, sit together in a courtroom in Sumner, Miss. Bryant and his half-brother Milam were charged with murder but acquitted in the kidnap-torture slaying of 14-year-old black teen Emmett Till in 1955 after he allegedly whistled at Carolyn Bryant.
(AP Photo)
The report didn't indicate what the new information might be, according to the AP, but it was issued in March following the publication last year of "The Blood of Emmett Till" by Duke University professor Timothy B. Tyson.
The book said Donham acknowledged in a 2008 interview she wasn't truthful when she testified that the 14-year-old Till grabbed her and whistled at her in a store in 1955. Donham spoke to Tyson for his book, possibly in the only interview she has given to a historian or journalist since the incident happened, according to the New York Times.
In the book, author Tyson wrote that Donham told him her testimony about Till accosting her wasn't true.
"Nothing that boy did could ever justify what happened to him," the book quotes her as saying.
Relatives of Till pushed Attorney General Jeff Sessions to reopen the case last year following publication of the book. Deborah Watts, Till's cousin and co-founder of the Emmett Till Legacy Foundation, told the AP it is "wonderful" that the killing is getting another look, but didn't want to discuss details.
Till's murder became a rallying point for the civil rights movement and the casket he was buried in is on display at the Smithsonian's National Museum of African American History and Culture.
The Till foundation did not respond to a request for comment from Fox News.
The Associated Press contributed to this report.
Travis Fedschun is a reporter for FoxNews.com. Follow him on Twitter @travfed
Source: Read Full Article