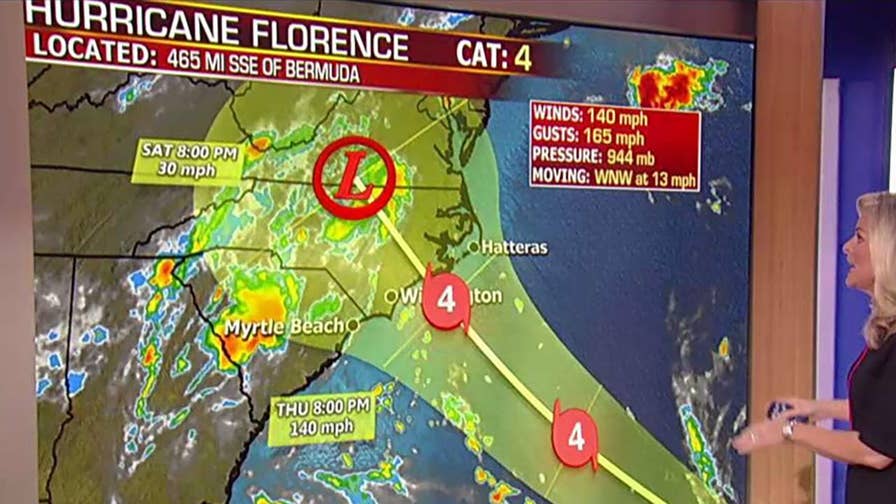 Hurricane Florence packing winds up to 150 mph
Fox News senior meteorologist Janice Dean provides update on storm track.
The last time residents in the Carolinas and Mid-Atlantic states stared down a hurricane that posed as great a threat as the one currently churning their way, Dwight Eisenhower was in the White House, Elvis Presley was a hot new artist and Marilyn Monroe said "I do" to Joe DiMaggio.
More than a million people were leaving their homes along the Eastern Seaboard on Tuesday amid mandatory evacuations, and supply store shelves were quickly emptying in preparation for the once-in-a-generation Hurricane Florence – a potentially catastrophic Category 4 storm that's teetering on the brink of an even higher classification.
North Carolina has only been hit by one Category 4 storm since reliable record keeping began in the 1850s. That was Hurricane Hazel, which was already responsible for killing 1,000 people in Haiti and had winds clocked at 150 mph when it hit the coast in 1954.
"Hazel stands as a benchmark storm in North Carolina's history," Jay Barnes, who's written books on the hurricane histories of North Carolina and Florida, told the Associated Press. "We had a tremendous amount of destruction all across the state."
HURRICANE FLORENCE'S PATH: TRACK THE STORM HERE
In this Oct. 15, 1954 file photo, Hurricane Hazel destruction is seen in Morehead City, N.C.
(AP)
Hazel kept roaring past the coast and its winds had weakened only slightly by the time the storm reached Raleigh, 150 miles inland. Nineteen people died in North Carolina and an estimated 15,000 buildings were destroyed.
It didn't stop there.
Some 12 hours after landfall, Hazel continued swirling north to Buffalo, New York – ripping through a total of seven states with winds roaring at 100 mph or greater.
Jerry Helms, 86, was on his honeymoon on a barrier island off the North Carolina coast when Hazel hit on the evening of Oct. 14, 1954. He and his new bride had been to a roller skating rink and missed hearing the evacuation warnings from police officers who went door to door.
In this Oct. 15, 1954 file photo, high tides, whipped in by Hurricane Hazel, shatter boats and buildings in Swansboro, N.C., as the storm lashes the Atlantic seaboard.
(AP)
Hazel obliterated all but five of the 357 buildings in the beach community now known as Oak Island. The Helmses barely survived.
"There was another house — a wooden house that was coming down the road more or less — and it had some guy in that thing and he's hollering for help," he said.
Helms pushed a mattress through the top-floor window, and they hung on as it bobbed in the raging water.
For Florence, Helms said he doesn't have a safer destination in mind, and, having recently broken ribs in a fall, he fears getting stuck as thousands abandon the coast.
"I didn't feel like it was going to be bad enough to leave," Helms said. "I don't know. I just felt better about staying here than I did leaving."
By comparison, Florida, which is closer to the equator and in line with the part of the Atlantic off the African coast where hurricanes are born, has had at least five Category 4 or greater hurricanes in the past century — including Hurricane Andrew in 1992.
As of 8 a.m. Tuesday, Hurricane Florence had sustained winds of 130 mph and was expected to strengthen as it continues to move over unusually warm waters in the Atlantic Ocean. Some forecasts show that it could strengthen to a Category 5 hurricane before making landfall Thursday.
"Florence is expected to be an extremely dangerous major hurricane through Thursday night," the National Hurricane Center said.
The hurricane was centered about 975 miles east southeast of Cape Fear, North Carolina. The center will move between Bermuda and the Bahamas on Tuesday and Wednesday and approach the coast of South Carolina or North Carolina on Thursday, the National Hurricane Center said.
On Monday night, President Trump approved an emergency declaration for North Carolina.
"Heed the directions of your State and Local Officials – and know that WE are here for you. Be SAFE!" he tweeted.
National Hurricane Center Director Ken Graham warned that Florence was forecast to linger over the Carolinas once it reaches shore.
"It's not just the coast," Graham said. "When you stall a system like this and it moves real slow, some of that rainfall can extend well away from the center."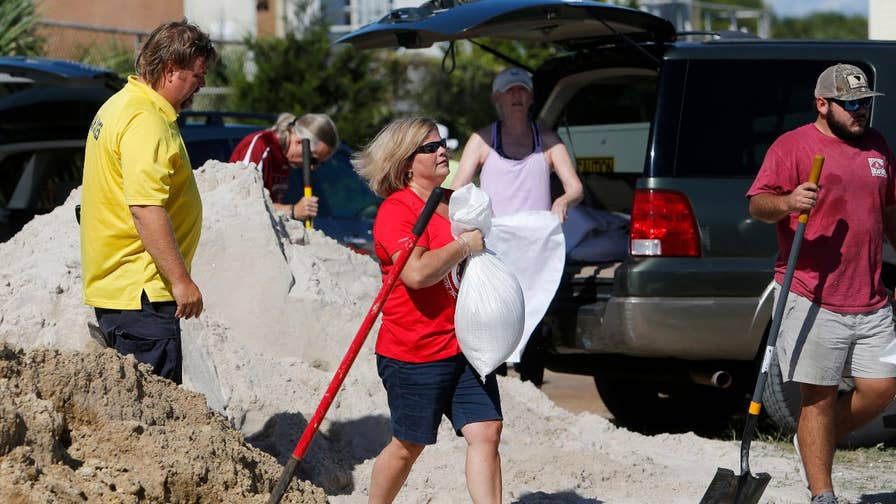 The throngs of vehicles heading inland demonstrate the big difference between Hazel's impact and the damage Florence could cause, Barnes said.
"Today, we have thousands and thousands of permanent residents on our barrier beaches," he said. "It's a totally different scenario with regard to human impact."
South Carolina Gov. Henry McMaster ordered the state's entire coastline to be evacuated starting at noon Tuesday and predicted that 1 million people would flee.
Virginia Gov. Ralph Northam issued an evacuation order that applies to about 245,000 people.
North Carolina Gov. Roy Cooper said his state was "in the bullseye" of the storm and urged people to "get ready now."
Fox News' Amy Lieu and the Associated Press contributed to this report.
Lucia I. Suarez Sang is a Reporter for FoxNews.com. Follow her on Twitter @luciasuarezsang
Source: Read Full Article