'Immense tragedy': Motorway bridge collapses in Genoa, Italy
The disaster occurred on a highway that connects Italy to France.
Rome: A bridge over an industrial area in the Italian city of Genoa partially collapsed during a sudden and violent storm on Tuesday, leaving vehicles crushed in the rubble below in what the transport minister said was likely to be "an immense tragedy".
The head of the local ambulance service said there were "dozens of dead", Italian news agency Adnkronos reported.
Rescues work among the debris of the collapsed bridge.
The local fire brigade said also victims were likely after the bridge collapsed at around 11.30am (7.30pm AEST) during torrential rainfall.
An ambulance official told Reuters the service could only confirm two injured people so far, "but we suppose there are unfortunately a lot of dead."
Italian television showed images of the collapsed bridge, which was built on the A10 toll motorway in the 1960s. Restructuring work on the bridge was carried out in 2016.
It crumbled over a river, railroad tracks and buildings.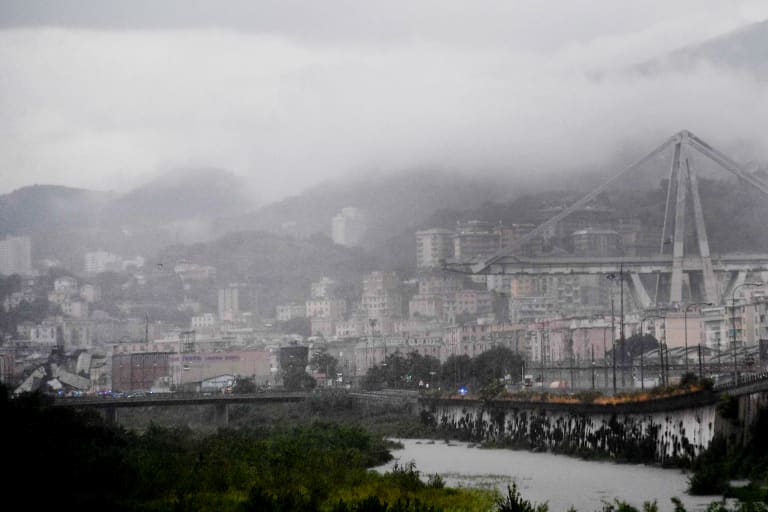 A view of the collapsed Morandi highway bridge in Genoa, Italy.
The disaster occurred on a highway that connects Italy to France and other vacation resorts on the eve of a major Italian holiday on Wednesday, Ferragosto, and traffic would have been heavier than usual as many Italians traveled to beaches or mountains.
An witness told Sky Italia television he saw "eight or nine" vehicles on the bridge when it collapsed in what he said was an "apocalyptic scene".
Transport Minister Danilo Toninelli said in a tweet that he was "following with great apprehension what seems like an immense tragedy".
Interior Minister Matteo Salvini said some 200 firefighters were responding to the accident.
"We are following minute by minute the situation for the bridge collapse in Genoa," Salvini said on Twitter.
The Morandi Bridge was inaugurated in 1967. It is 90 metres high, just over one kilometre long, with the longest section between supports measuring 200 metres.
The bridge is a main thoroughfare connecting the A10 highway that goes toward France and the A7 highway that continues north toward Milan.
ANSA said that authorities suspected that a structural weakness caused the collapse on Tuesday.
A van on the collapsed bridge, which was built in the 1960s.
More to come
Reuters, AP
Source: Read Full Article