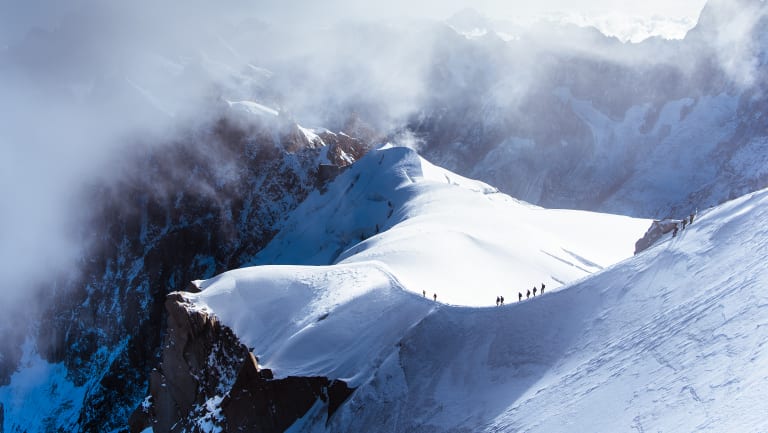 Johan Lolos's new book covers his travels across 17 European countries, and includes this breathtaking shot of the Aiguille du Midi peak in the French Alps. "What I saw there exceeded all my expectations," he says.
Self-taught photographer Johan Lolos was backpacking around Australia in 2014 when he was unexpectedly catapulted to Insta-fame. "One of the photos that I took of the Great Ocean Road was shared by the National Geographic and Tourism Australia Instagram accounts in the same week, and everything blew up for me," says Lolos.
He quickly saw his tribe of admirers grow from 1000 followers to nearly half a million. "From that day, it never stopped."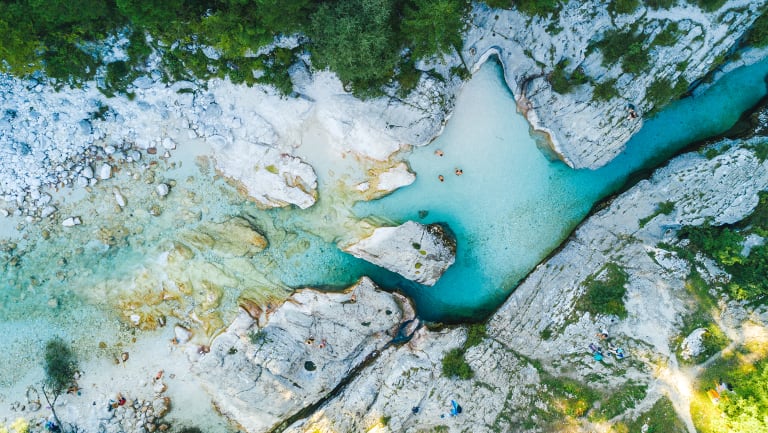 The Soca River near Smast, Slovenia.
His adventures also took him to Canada, Namibia and Colorado but, after three years travelling to remote places, the Belgian-born PR graduate decided it was time to focus on his own continent. During last year's European summer, Lolos hit the road for five months, covering 40,000 kilometres across 17 countries. His new book, Peaks of Europe, features the best 200 photographs from his travels.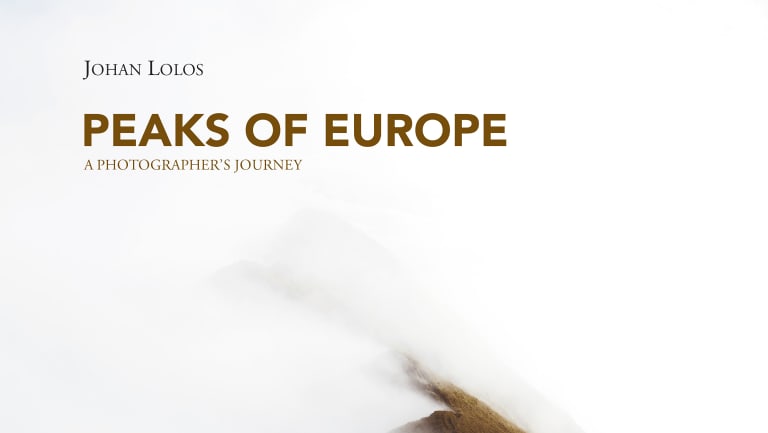 Fog surrounds a hiking trail on Augstmatthorn in the Swiss Alps (Lolos's favourite shot).
Lolos hiked from the wilds of Iceland to the lakes of Croatia, occasionally using drones to capture the perfect shot. "Other times I [went] on helicopters or little Cessnas," he explains. "I try to include some sort of model who will give the viewer a sense of scale, and make them feel like they are the person in the photo."'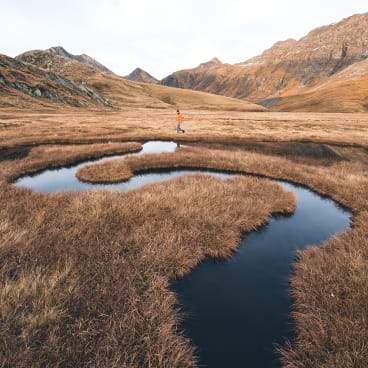 The Greina Plateau in Graubünden canton, Switzerland.
When asked to pick a favourite image, Lolos can't look past the shot (featured on the cover of Peaks of Europe, and above) of a hiking trail snapped on Augstmatthorn, a peak in the Swiss Alps. He'd been planning on shooting this trail for months, but when he arrived the weather had other plans. After three days of waiting for the skies to clear, he decided to throw caution to the wind.
"I contacted two followers who said they were willing to join me on the hike. Eventually we arrived at the top and it was this apocalyptic scene, absolutely out of this world. There was thick fog on the left, and on the right a clear view. As soon as I took the shot I was so excited, like a kid. I knew I was taking a cover photo … 10 minutes later the fog lifted and was gone, so there was lots of luck in taking that photo."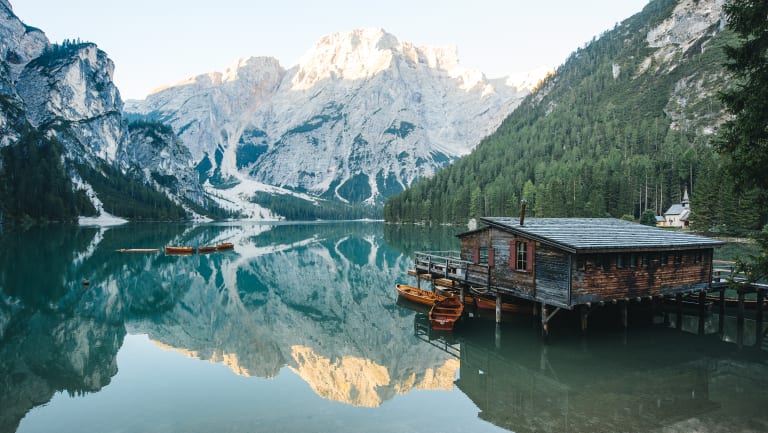 Sunrise at Lago di Braies in the South Tyrol, Italy.
After years of capturing vivid terrains, Lolos is increasingly inspired by what he calls "the human element". In the midst of his European journey, he came across a young gypsy in the markets of Greece who changed his perspective. "I saw this little girl and she was so small and short, but dressed like an adult, like a beautiful woman," he recalls. "I asked if I could take her photo, then the whole family of gypsies came up and I spent one hour taking photos of these guys. It was one of the first times I documented humans, not just landscapes."
The 30-year-old admits there's a special buzz in seeing his pictures in print after the online experience of likes, posts and shares. "Being on digital means you have direct feedback and response from your audience … but it doesn't mean as much as when I get feedback from people who actually bought the book and share the gratitude." Perhaps Peaks of Australia could be the sequel? "Oh, for sure," Lolos says, laughing. "I've never been to the Kimberley, so that's next on my list."
Peaks of Europe is released in September, $90, from The Lannoo Group.
To read more from Good Weekend magazine, visit our page at The Sydney Morning Herald or The Age.
Source: Read Full Article