Seoul: North Korean leader Kim Jong-un has landed in Singapore ahead of a summit with US President Donald Trump that could end a nuclear stand-off between the old foes and transform his impoverished country.
North Korean leader Kim Jong-un arrives at Changi International Airport, on Sunday.
Kim arrived in an Air China 747 that touched down at Changi Airport, Singapore's Straits Times said.
He was greeted by Singapore's Foreign Minister, Vivian Balakrishnan, who posted a picture on Twitter of him shaking hands with Kim and the message: "Welcomed Chairman Kim Jong Un, who has just arrived in Singapore".
Replay
Kim is due to meet Singapore Prime Minister Lee Hsien Loong in the city state later on Sunday, Singapore's Ministry of Foreign Affairs said in a statement.
Trump is expected to arrive at 8pm local time (10pm AEST) and go straight to his hotel, the Shangri-La, the White House said.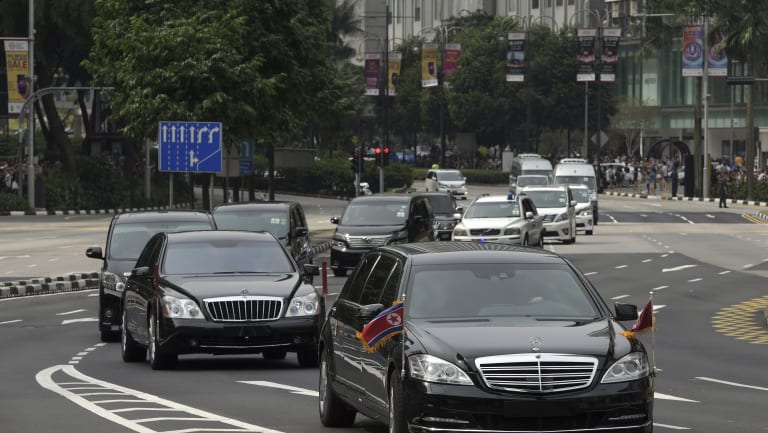 The North Korean motorcade, believed to be carrying North Korean leader Kim Jong-un, travels along Singapore's Orchard Road on Sunday, ahead of the summit with US leader Donald Trump..
Authorities have beefed up security around the hotels where Trump and Kim (Saint Regis) will be staying in central Singapore.
The Trump-Kim summit, which will be held at the Capella Hotel on Tuesday morning, will mark the first time a North Korean leader has met a sitting US president.
Despite the initial high stakes of a summit meant to rid North Korea of its nuclear weapons, the talks have been portrayed by Trump in recent days more as a get-to-know-each-other meeting.
Trump has also raised the possibility of further summits.
Kim has shown surprising diplomatic skills in his meetings with overseas leaders this year.
He went out of his way to be cordial during two summits with South Korean President Moon Jae-in in April and May.
Trump predicted on Saturday that he will know almost immediately when meeting Kim whether the North Korean leader is serious about negotiating a nuclear deal, suggesting his intuition is enough to size up the leader of the world's most opaque authoritarian regime.
"Within the first minute, I'll know. My touch, my feel – that's what I do," Trump said during a news conference in Quebec as he prepared to depart the G7 summit en route to Singapore.
Agencies
More to come
Source: Read Full Article