French President Emmanuel Macron has told US legislators they must join with the international community to help preserve and extend the benefits of the postwar world order.
Addressing a joint session of Congress on Wednesday on the third day of a state visit, Macron appealed to the US not to turn inward as he listed a host of threats facing the world from climate change and rogue nuclear weapons to inequality and fake news.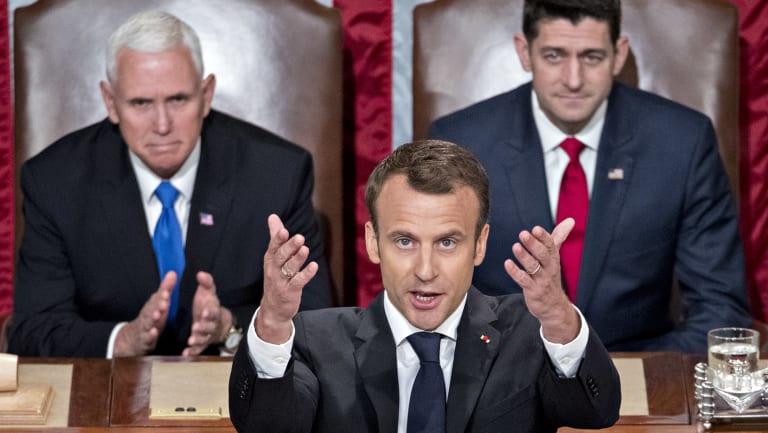 French President Emmanuel Macron speaks to a joint meeting of US Congress.
The US Capitol has a long history as a setting for French leaders looking to make their mark on world affairs. The Marquis de Lafayette, a French general who fought for the US in the Revolutionary War, was the first foreign dignitary to address Congress in 1824 and Macron's speech comes on the anniversary of one by Charles de Gaulle in 1960. Nicolas Sarkozy was the last French President to appear before US legislators in 2007.
Macron the previous day had proposed a new agreement with Iran in an effort to persuade Trump not to reimpose sanctions. The new pact would extend restrictions on its nuclear program, restrict its ballistic missile work and limit Iran's broader influence in the Middle East.
While some Republican leaders criticise the existing deal's limited scope and the way it was negotiated, they have also been hesitant to pull out and start again from scratch.
"As flawed as the deal is, I believe we must now enforce the hell out of it," Ed Royce, the California Republican who chairs the House Committee on Foreign Affairs, said in an October committee hearing.
Mike Pompeo, the CIA director who Trump has nominated to be his next secretary of state, has harshly criticised both the nuclear and the Iranian regime. His promotion was received by many in Congress as a sign that Trump intends to pull out of the accord. The President has to decide by May 12, the deadline to extend a waiver on sanctions, a key plank of US obligations under the deal.
Trump on Tuesday seemed at least somewhat interested in Macron's blueprint, calling it a "new deal" with "solid foundations". Teams of American negotiators have been working with European allies for weeks on a new accord along the lines of what Macron laid out. Like Macron, their biggest challenge is the absence of any guarantee that Trump will accept the result.
On trade, Macron, a former investment banker and economy minister, is more in line with traditional Republicans than their own President. Macron's recognition that some countries engage in trade violations and overcapacity of steel and aluminum – but that Europe isn't the problem – tracks closely with House Speaker Paul Ryan's response to Trump's tariff announcement last month.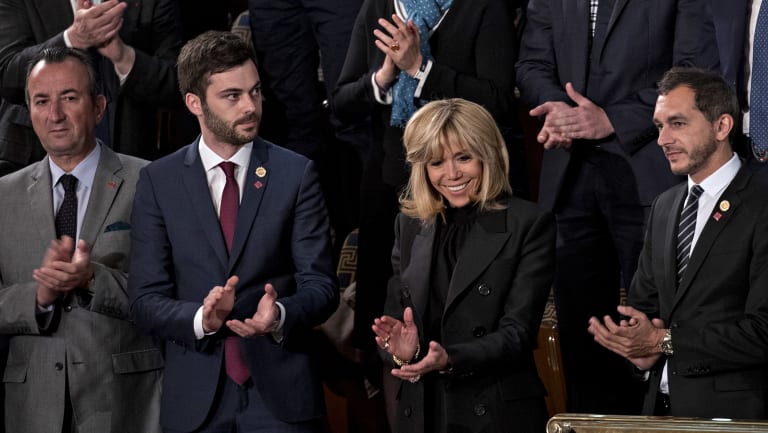 Brigitte Macron, France's first lady, arrives to watch the address to Congress.
Congressional Republicans have urged the Trump administration to be more targeted in its trade policy, rather than instituting broad measures that impact traditional allies like France. German Chancellor Angela Merkel will visit the White House on Friday with a similar message.
Bloomberg
Source: Read Full Article