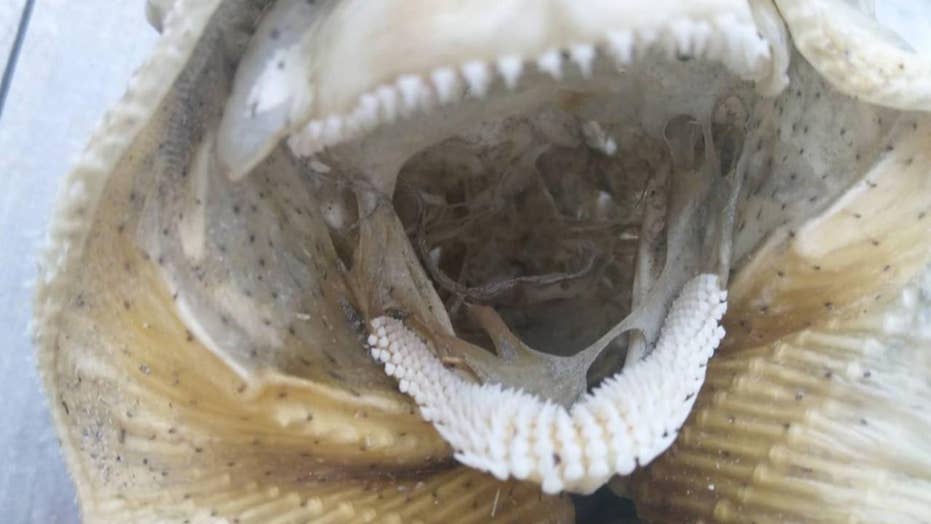 Mysterious sea creature draws 'alien' comparisons
When fisherman Andrew Rose hooked a slimy sea critter in Australia back in February, he made sure to keep his distance.
The fish, which had no eyes and razor-sharp teeth, was unlike anything he'd seen before.
"It looked prehistoric. It looked like something you see in the movies. The lure wasn't swimming right, I pulled it and it had this strange looking fish on it. We didn't know what it was," Rose told Guardian Australia on Friday, adding that his angler pal Tee Hokin was also there to witness the "monster" fish in person.
HUGE SPIDER BATTLES VENOMOUS SNAKE, BRINGS 'ENTIRE' SERPENT 'OFF THE GROUND,' HORRIFYING IMAGES SHOW
The pair snapped pictures of the strange creature before releasing it back into the Mary River near the Kakadu National Park in Australia's Northern Territory. They shared the two close-up photos on the official Facebook page for Outback Boat Hire, a Marrakai-based boat rental service.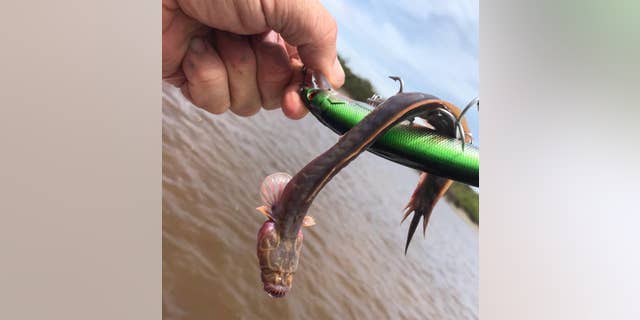 Andrew Rose caught the odd-looking fish in mid-February.
(Courtesy Outback Boat Hire/Andrew Rose)
"Has anyone caught one of these before?" the company inquired about the fish's identity.
Dozens of people jokingly offered suggestions — from "baby alien" to "Predator's love child."
"It looked prehistoric. It looked like something you see in the movies."
500-POUND GOLIATH GROUPER EATS SHARK AS SHOCKED FLORIDA FISHERMEN WATCH: 'HE JUST SUCKED IT IN'
Hokin admitted that was also his first thought.
"Honestly the first thing I thought about was the Alien movie with Sigourney Weaver and that thing that comes out of people's stomach, that's exactly what I thought, and that's what they describe it as when you look it up on the internet," Hokin told the Australian Broadcasting Corporation (ABC). "It didn't even move or wriggle. It was like stunned … like stealth mode."
But many locals agreed: it was likely a species of worm goby.
Michael Hammer, a fish expert from the Museum and Art Gallery of the Northern Territory, also said it looked like a Taenioides cirratus — a type of worm goby.
"[The worm goby] is bathed in a pinkish-golden tinge along its body but it appears to be without scales. Yet attached to this beautiful and lithe body is a fully wrinkled skull-like head. The yellowish-translucence of the face makes it look like a skinless skull. Complete with a row of spiky teeth on the outside of its mouth, a pair of tiny dotted eyes, and a stubby short beard, its extra-terrestrial look is worth a mention here," Practical Fishkeeping magazine previously described in a post online.
Hammer said it's a rare catch, as the worm goby is a mud dweller.
"They have no eyes and live their life under the mud and are pretty rarely seen by people," he told ABC, warning that they have "glass-like" choppers so beware.
They can grow up to roughly 20 inches long, according to Hammer, who noted it's riskier to handle them at that size.
"Once they are that big they could give you a bit of a bite," he said.
Source: Read Full Article