Parkland, Florida: It's happened again. This time in Texas, more than 1600 kilometres away.
But still, it felt so close.
Friday what was the last day of high school for many senior students of Marjory Stoneman Douglas in Parkland, Florida,  the high school that lost 17 of their own in a February mass shooting.
It had only been 93 days. Now 10 more people – a teacher and nine students – were dead as a result of another school massacre. The 22nd shooting in the United States in 20 weeks this year. The 16th at a school during school hours, according to the Washington Post.
A woman wipes away tears during a prayer vigil following a shooting at Santa Fe High School in Santa Fe, Texa.
"I'm crying for my friend and the same thing is happening all over again," said Tyra Hemans, a senior at Stoneman Douglas who was already emotional and tearful from signing Meadow Pollack's memorial yearbook when she learnt of the tragedy in Texas. Pollack, 18, died after being shot nine times in Parkland.
Ten were killed and 10 were wounded at Santa Fe High School near Galveston on Friday, local time, when a 17-year-old player on the school's junior varsity football team, according to authorities, opened fire in a first-period art class. Among the injured a retired police officer, John Barnes, who worked as an armed school guard and tried to engage the shooter.
"Prayers and hugs is all that you can take right now," was Hemans' advice to those hurting in Santa Fe. "Because nothing will ever feel the same again."
A man hugs a woman outside the Alamo Gym where parents wait to reunite with their children following the shooting at Santa Fe High School.
The Parkland massacre spawned a "Never Again" vow, hashtag and movement to eliminate school shootings, reform gun laws and hold lawmakers accountable for their position on gun laws.
Student-survivors-turned-activists embraced a mission to register young voters to drive a meaningful change. In that vein, thousands swarmed to Washington, DC, six weeks after the Stoneman Douglas shooting for March For Our Lives – the most massive student protest since Vietnam.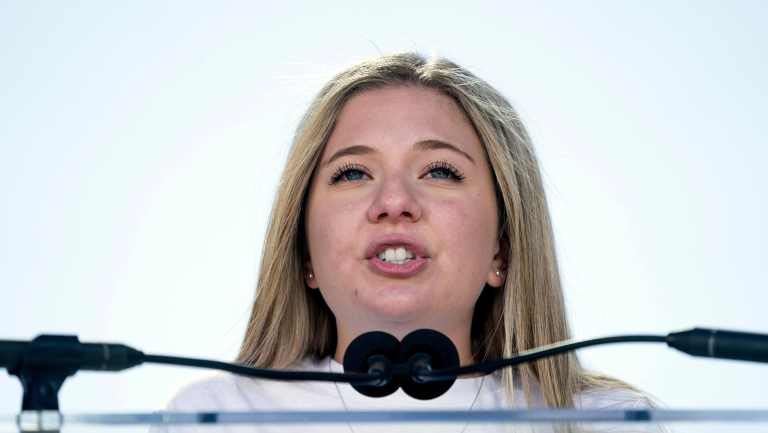 Jaclyn Corin, a student at Marjory Stoneman Douglas High School in Parkland and one of the organisers of the "March for Our Lives" rally in support of gun control in Washington.
One of the prominent students behind the #NeverAgain movement, Sarah Chadwick, a speaker at the DC march, tweeted: "I'm not going to say thoughts and prayers but instead policy and action."
A shocked and grieving Santa Fe student was asked on television if she had thought that it couldn't happen at her school. Her reply spoke of the reality of gun violence in the country:
"No, it's been happening everywhere. I always felt it would eventually happen here too."
For the parents of the slain Stoneman Douglas students, the news out of Texas plunged them into frustration, grief and outrage. They came together to jointly craft a statement of condolence and solidarity for those suffering in Texas. Eight parents of the fallen united in the evening behind Tony Montalto, father of murdered 14-year-old Gina Montalto, at Parkland City Hall to deliver their message.
"We mourn and pray for those lost or injured and hope their community will rally to support them as ours has," he read.
The statement also called for an American unification to bring about gun control and mandatory school safety measures, along with a plea for the media to refrain from using the Texas killer's name. Doing so would prevent "him from gaining the notoriety many of his kind desire," they wrote.
"Today's been a little rough," said April Schentrup, whose daughter Carmen was murdered seven days shy of her 17th birthday. "Every day is a struggle and sad, and now all we can do is reach out and offer to help in any way we can to the families in Santa Fe."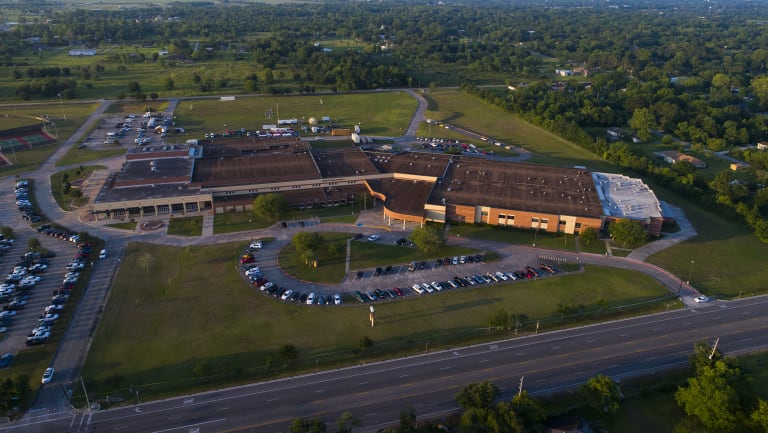 Cars still sit in the carpark were left as the sun set on Santa Fe High School, the scene of the deadly shooting.
For Fred Guttenberg, who has turned to full-throttle activism to deal with the death of his 14-year-old daughter Jaime, the painful memory of having to plan a child's funeral amid soul-wrenching loss and shock resurfaced.
"I remember how I felt, and I said it, I felt broken. You don't know where to turn, you don't know where to go … [you have to] plan a child's funeral. It's a nightmare," he said.
Dimitrious Pagourtzis listens to Galveston County Judge Mark Henry during his arraignment at the county's jail.
A 17-year-old student, identified as Dimitrios Pagourtzis, was apprehended at the scene and was being held on 10 counts of murder and refused bail. A second student at Santa Fe High School, located about 48 kms from Houston, was also detained.
Speaking at an event at the White House, US President Donald Trump said the country was dealing with "sadness and heartbreak".
"This has been going on too long in our country, too many years, too many decades now," he said.
"We grieve for the terrible loss of life and send our support and love to everyone affected by this absolutely horrific attack. We're with you in this tragic hour and we will be with you forever."
He said his administration was "determined to do everything in our power to protect our students, secure our schools and to keep weapons out of the hands of those who pose a threat to themselves and to others".
Days after the Parkland shooting, Trump said that elected officials should be ready to "fight" the powerful NRA lobby group. Early this month he embraced that group, telling its annual meeting in Dallas "your Second Amendment rights are under siege" and, as long as he was President, their guns would never be taken away.
The Second Amendment of the US Constitution protects the right to bear arms.
in Febraury Trump proposed teachers be armed to counter shooters.
Replay
Sun Sentinel with Rachel Olding
Source: Read Full Article