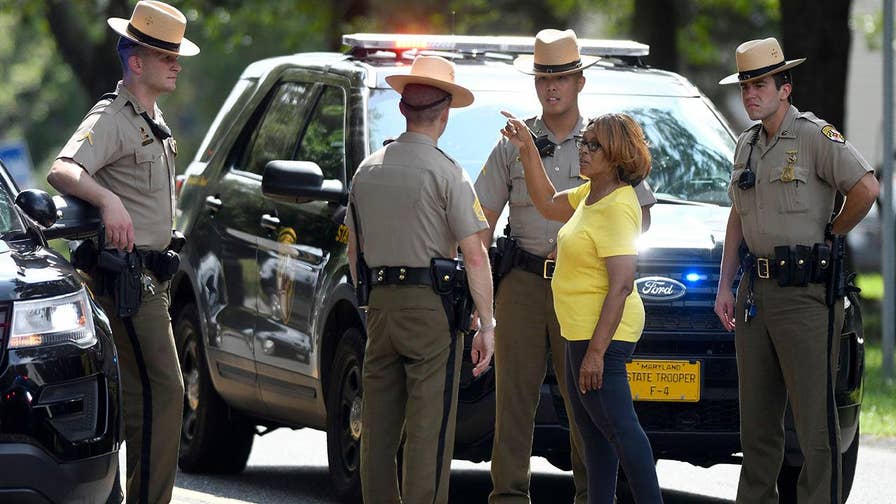 Maryland shooter died from self-inflicted gunshot
Officials: 26-year-old temporary staffer killed at least three and wounded several others before shooting herself in the head; Peter Doocy reports from Aberdeen, Maryland.
The lone shooter responsible for killing at least three people and wounding several others during a Thursday morning assault on a Maryland distribution center died at the hospital after she shot herself in the head, police said.
The suspect was identified as Snochia Moseley of Baltimore County, the Harford Sheriff announced on Twitter.
In total, four people were killed in the shooting at the Rite Aid distribution center in Aberdeen, including the 26-year-old suspect who died at the hospital, Harford County Sheriff Jeffrey Gahler said at a news conference.
Three others were also shot in the incident but are expected to survive, he said.
Shots were fired just after 9 a.m. near Spesutia and Perryman roads in Aberdeen.
(WZJ via NNS)
Police responded to the shooting just after 9 a.m. at a distribution center near Spesutia and Perryman roads. Authorities arrived on the scene in just over five minutes of the first call.
Authorities discovered that the suspect was a temporary employee at the distribution center and "had reported for her workday as usual" before shots were fired, Gahler said.
A motive for the "senseless crime" remained unclear, he added.
The suspect appeared to be "armed with one handgun and several magazines," Gahler said, adding that the weapon was owned and registered to her.
Multiple people were killed and wounded Thursday after a shooter opened fire at a Maryland distribution center, officials said.
(AP)
"No shots were fired by any law enforcement responder," he said.
The incident is thought to have begun outside before it moved inward and shot individuals were found both inside and outside the business, Gahler said.
A law enforcement official previously told Fox News the shooter may have been a woman and confirmed the incident was no longer an "active shooter" situation as of 11:30 a.m.
An FBI official told Fox News that the suspect's name had been run through the system and didn't find any terror ties.
Authorities say multiple people have been shot in northeast Maryland.
(AP)
Maryland Gov. Larry Hogan described the scene as "horrific."
"We are closely monitoring the horrific shooting in Aberdeen. Our prayers are with all those impacted, including our first responders," Hogan tweeted. "The State stands ready to offer any support."
He later added that he and his wife were "grieving the loss of life" and "praying that those who were injured fully recover."
"We are wholeheartedly grateful to the first responders who were at the scene in five minutes, and all medical and law enforcement personnel who are helping in the aftermath of this tragic shooting," he tweeted.
FBI Baltimore said it was responding to the scene, and a spokesperson told Fox News one of the bureau's crisis specialist teams was en route.
Aberdeen is located about 30 miles northeast of Baltimore.
Less than a year ago, Harford police officers were called to a shooting at a granite company in which three people were killed and two others were wounded. The gunman, Radee Prince, opened fire at his workplace in nearby Edgewood, less than 10 miles from Thursday's shooting, in October 2017.
He was captured in Delaware after a 10-hour manhunt.
In July, five people were killed when Jarrod Ramos, 38, launched a "targeted attack" at the Capital Gazette newspaper building in Annapolis.
Fox News' Jake Gibson, Griff Jenkins, Peter Doocy and The Associated Press contributed to this report.
Katherine Lam is a breaking and trending news digital producer for Fox News. Follow her on Twitter at @bykatherinelam
Source: Read Full Article