Authorities have confirmed that they have made an arrest in the unsolved case of a serial killer and rapist who terrorised communities in California in the 1970s and 1980s.
Joseph James DeAngelo, 72, was arrested on a warrant from the Ventura County Sheriff's Department and booked early on Wednesday on two counts of murder, according to Sacramento County jail records. A person familiar with the matter confirmed that DeAngelo had been arrested in connection with the case.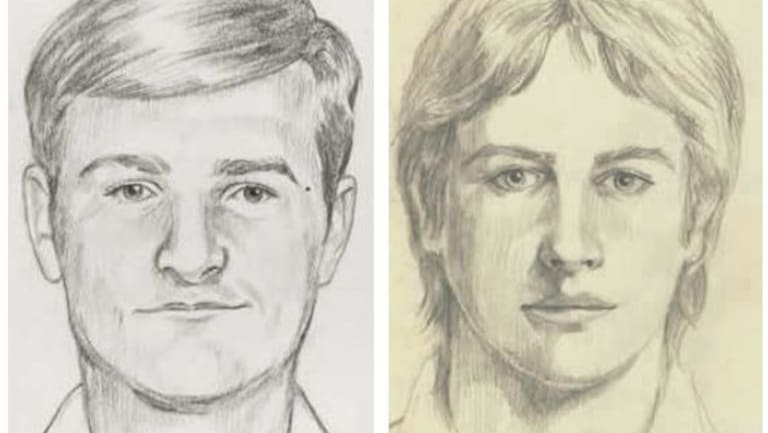 Police sketches of the Golden State Killer.
The Golden State Killer, also known as the East Area Rapist and the Original Night Stalker, is thought to have killed 12 people, raped 45 people and burglarised more than 120 homes in multiple communities between 1976 and 1986. He raped and killed women home alone, women at home with their children, and husbands and wives from Sacramento to Orange County, authorities said.
On Tuesday, the Australian reported that US authorities once looked into the possibility that the Golden State Killer fled to Victoria and became the state's infamous – but unidentified – Mr Cruel who also burglarised and killed people. Victoria Police ruled out the link.
In June 2016, the Federal Bureau of Investigation launched a major re-investigation and offered a $US50,000 ($66,000) reward for information leading to the arrest and conviction of the Golden State Killer, described as a "prolific serial rapist and murderer".
The FBI said then that if the suspect was still alive, he would be between 60 and 75 years old, close to 6 feet tall, with blond or light brown hair and an athletic build. They said he might have an interest or training in military or law enforcement techniques and the use of firearms.
An exhaustive investigation into the identity of the serial killer was documented in a book called I'll Be Gone in the Dark, written by Michelle McNamara, who died in April 2016. The book was completed after her death by a journalist and researcher recruited by her husband, comedian Patton Oswalt, who posted a video on Wednesday saying: "I think you got him, Michelle".
Billy Jensen, one of the writers responsible for researching I'll Be Gone in the Dark, posted a news clip on Twitter showing that DeAngelo was once a policeman outside of Sacramento and was fired after he was accused of shoplifting a can of dog repellent and a hammer at a drug store in 1979.
He chose not to fight for his job and hastily accepted his punishment without answering any of the city's investigations, the article said.
Two months later, a suspect later believed to be the East Area Rapist stabbed a dog while prowling along a neighborhood.
Shelly Orio, a spokeswoman for the Sacramento County District Attorney's office, said only that there had been a "major development" when asked to confirm local media reports that there had been an arrest in the case.
The Sacramento district attorney, Anne Marie Schubert, and Sheriff Scott Jones will announce the development in the case at noon local time in Sacramento, Schubert's office said.
New York Times, Fairfax Media
Source: Read Full Article