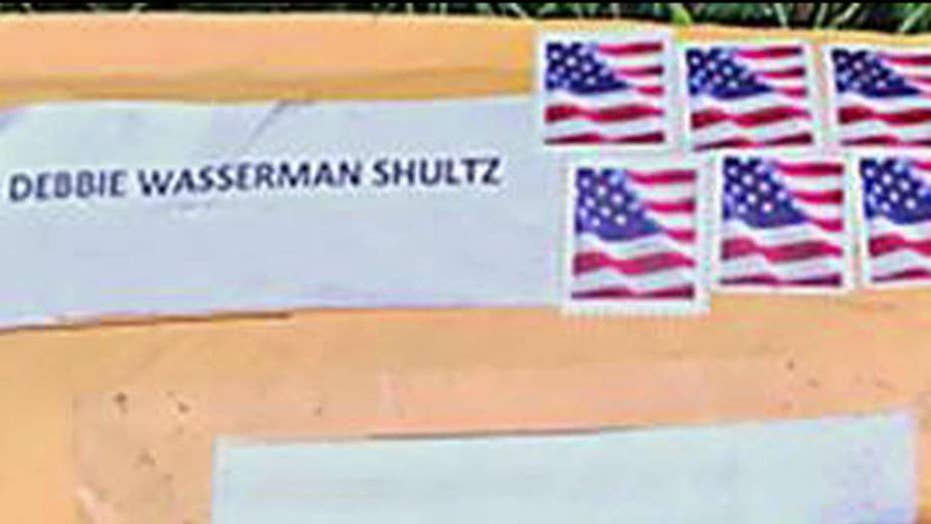 Suspicious packages being sent to FBI lab for analysis
Law enforcement believes devices sent to the Obamas, Clintons, CNN and others are related; Bryan Llenas reports.
A suspected explosive device mailed to CNN's New York City headquarters and addressed to former CIA Director John Brennan reportedly contained an image parody of the ISIS flag, along with a popular catchphrase made famous by comedian Larry the Cable Guy.
A senior law enforcement official confirmed to NBC News that the device mailed to Brennan contained a parody image of the ISIS flag, which features Arabic writing with three suggestive silhouettes of women and the "Get 'Er Done" phrase in the center.
An image of an unidentified person also appears to be on the device next to the flag.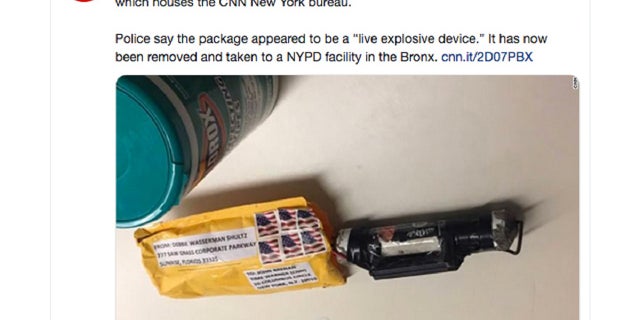 This screenshot from CNN's Twitter account shows what CNN says is the explosive device that was delivered to their New York headquarters on Wednesday, Oct. 24, 2018.
(CNN Twitter Account via AP)
The spoof ISIS flag was created in 2014 by a right-wing parody site called World News Bureau for a satirical article about ISIS, and has since morphed into a meme, NBC News reported.
The FBI did not immediaitely return Fox News' request for comment regarding the ISIS parody image.
The bureau  said Wednesday evening that it had identified seven suspicious packages addressed to prominent liberal and Democratic political figures over the previous three days that contained "potentially destructive devices."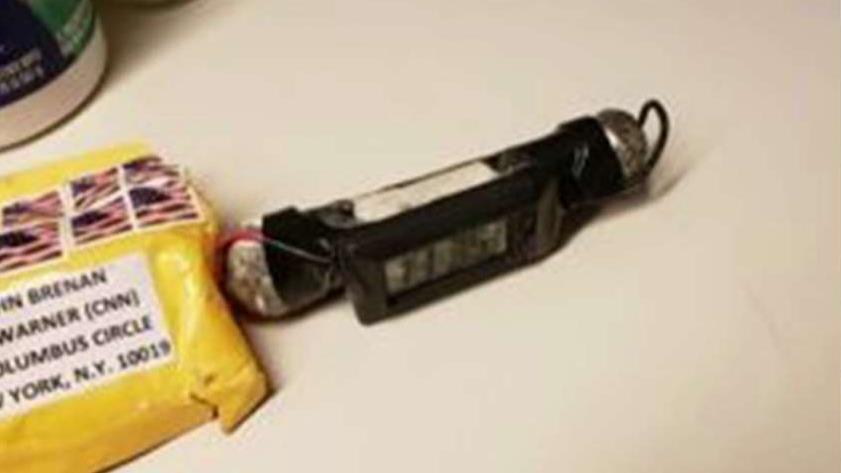 The FBI initially said it had recovered five packages that were similar in appearance and bore the return address of an office for Rep. Debbie Wasserman Schultz, D-Fla. The packages were addressed to billionaire George Soros, Hillary Clinton, former President Barack Obama, Brennan — care of CNN — and former Attorney General Eric Holder. The FBI said it was possible that additional packages were mailed to other locations.
Law enforcement officials involved in the investigation told Fox News that the similarity between the packages has led them to believe that a single individual or group could be responsible.
Late Wednesday, the Los Angeles Central Mail facility was evacuated after employees found a suspicious package, which The Associated Press reported was addressed to Rep. Maxine Waters, D-Calif. The FBI later confirmed that it had recovered two packages addressed to Waters that were similar to the five it referenced in its earlier statement. The Los Angeles Police Department tweeted that its bomb squad had rendered the package at the mail facility safe and the investigation would be turned over to the FBI.
President Trump condemned the threatening mailings Wednesday afternoon, saying that "acts or threats of political violence of any kind have no place in the United States of America."
Fox News' Samuel Chamberlain and Jake Gibson contributed to this report. 
Source: Read Full Article