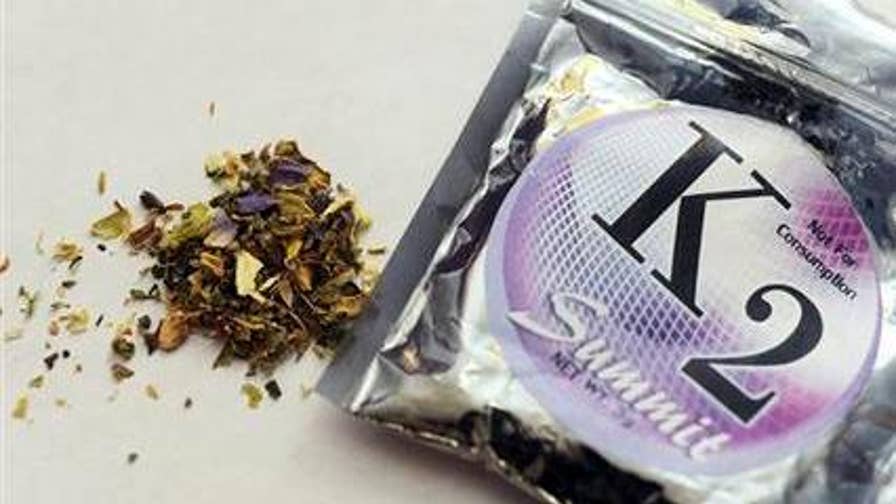 Synthetic marijuana having major impact on nation's prisons
New trends show the drug is flooding prisons across the country causing officials to act.
CAMPHILL, Pa. – In Florida, the past two years have been the deadliest in prison history. In Pennsylvania, 50 staffers became sick recently and 33 inmates were hospitalized, triggering a 12-day statewide prison lockdown.The culprit: synthetic marijuana, or K2.
The drug is flowing into prisons across the country, and has become one of the leading causes of death among inmates, experts say. Law enforcement officials call it one of the most dangerous drug problems the correctional system has ever seen.
"This is a national phenomenon – Ohio, Mississippi, Arkansas and others – have all seen a spike in occurrences and drug-related overdoses," said Pennsylvania Department of Corrections Secretary John Wetzel. "And now it's our turn."
On August 29, Wetzel closed 25 prisons to visitors and halted most mail service for its 46,768 inmates after what correction officials believe was a mass exposure to K2.
A lockdown, instituted Aug. 29, closed more than two dozen prison facilities to visitors and halted most mail service for 46,768 inmates. It also required all 15,000 employees to don protective gear.
(Fox News)
"We had to stabilize the situation," said Wetzel. "This has been building over the last two months. In July, we had 22 inmates with drug overdoses, 23 in August and a series of about 50 staff reported illness."
The increase in overdoses has prompted the department to launch new security measures and policies, including drone-detection equipment, high-tech body scanners and possible lifetime bans on prison visits for anyone caught trying to sneak drugs into prisons. The goal of the security measures, Wetzel said, is to try to stop all drugs from entering the prison through several known methods, including regular mail, outside books and publications, drones and visits from family and friends.
The new measures will cost Pennsylvanians $15 million.
But Pennsylvania is not the only state experiencing deadly K2 outbreaks in its prisons.
According to a report by the Miami Herald, the past two years have been the deadliest in Florida prison history. The top killer, according to an internal Florida Department of Corrections audit: synthetic marijuana, more commonly called K2 or Spice — the same substance found in the Pennsylvania prison system. Last year alone, the Florida corrections department confiscated 56,549 grams of K2.
The Arkansas Department of Corrections was one of the first systems to implement increased security measures after logging 1,136 reports of K2 last year. The department placed a ban on newspaper clippings and original pieces of mail delivered to inmates after officers discovered paper laced with the drug. Now, prisoners receive personal pieces of mail after the staff has photocopied it.
Even Texas, the nation's largest state-run system with 110 prisons, has seen a spike in K2 use among inmates.
"K2 is the new drug of choice, inside and outside of prison," said Inspector General Bruce Toney of the Texas Department of Criminal Justice, during a 2017 interview with the Houston Chronicle.
Typically, the chemical-made drug resembles marijuana and is sprayed onto dried plant matter and packaged for resale. But Wetzel believes that in Pennsylvania, the drug has been sprayed onto paper or liquefied into printer ink and fed into the prison through inmate mailings, much like in Arkansas.
"Employees began complaining of shortness of breath, fast heart rates and dizziness," said Wetzel, "The odorless substance makes it so hard to detect. Without these added security measures, we just wouldn't have the staff to stop it."
Pennsylvania prisons will no longer accept or sort inmates' personal and legal mail. All mail must be sent to a separate address, where it will be scanned and processed before being forwarded to the inmate.
(Fox News)
Inmates are attracted to the drug because it's so difficult to detect during random drug tests.
"K2 is particularly appealing to the prison population," said Patrick Trainor, a special agent for the U.S. Drug Enforcement Administration, "because it's psychoactive substances traditionally go undetected during a urine test."
Dr. Jeanmarie Perrone, director of medical toxicology at the University of Pennsylvania's Perelman School of Medicine, said the growing use of K2 among the inmate population could be "catastrophic."
"Any drug use in prison is a problem," Perrone said, "but when you are intermixing K2 [a compound that is constantly evolving] with fentanyl like we've seen throughout the region all summer — it can be a disaster waiting to happen."
Pennsylvania State Police and corrections staff will continue to investigate the sources of illegal drugs, but the status of those probes are unclear.
In the meantime, Wetzel, who said his goal is to stop all drug traffic into the prison, believes safety will help provide a healthy environment for all inmates.
"The vast majority of inmates are doing the right thing," he said, "but we can't create a rehabilitative environment if it isn't safe."
Talia Kirkland is a multimedia reporter based in Philadelphia, Pa.
Source: Read Full Article