Washington: President Donald Trump said in a tweet that he'll announce whether the U.S. will remain in the Iran nuclear accord at 2 pm on Tuesday in Washington.
Germany, France and the UK have lobbied Trump and his top aides to remain in the deal, which the president has frequently criticised. Trump has strongly hinted that he will withdraw from the agreement, and French President Emmanuel Macron said after meeting with Trump last month that he expects the US to exit the deal.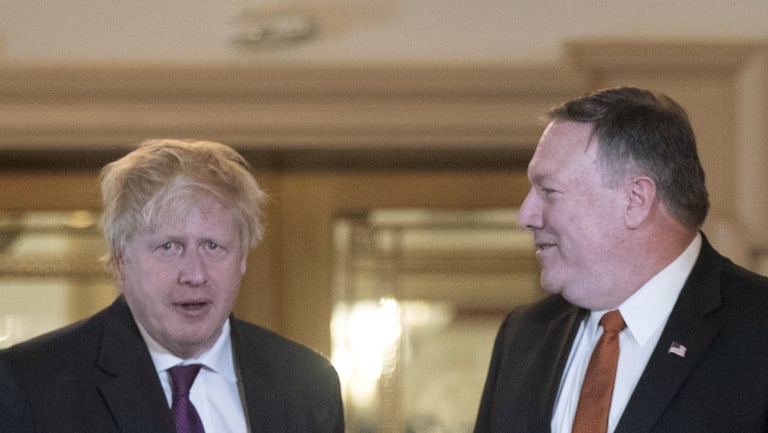 Secretary of State Mike Pompeo and UK Foreign Secretary Boris Johnson arrive for a photo availability at the State Department in Washington.
UK Foreign Minister Boris Johnson, sought to convince Trump to stick with accord by appearing on what is reportedly one of his favourite shows: Fox and Friends.
"We need to find a way of fixing that, and the president has been right to call attention to it, but you can't just do that without throwing the baby out with the bathwater," Johnson said Monday in an appearance on Fox News.
Johnson is in Washington this week to make a last-ditch argument to persuade Trump to remain in the accord, arguing that it is flawed but can be improved.
With the time at hand for Trump to decide whether the US remains in the Iran nuclear deal, world leaders are making their final pitches.
Johnson is scheduled to meet this week with Vice President Mike Pence, National Security Adviser John Bolton and other administration and congressional officials to try to salvage the pact aimed at curbing Iran's nuclear program in return for the easing of international sanctions. Johnson's arrival follows recent visits by Macron and German Chancellor Angela Merkel.
Israeli Prime Minister Benjamin Netanyahu said Sunday that the 2015 accord is fatally flawed and must be "fully fixed or nixed" to stop Iranian aggression sooner rather than later. His comments came as Iranian President Hassan Rouhani warned that the US would face "historic" regret if it pulled out.
Trump faces a May 12 deadline to decide whether to continue waiving key sanctions and has declined to reveal what he'll do. While the president has repeatedly called the accord a bad deal for the US, and Trump lawyer Rudy Giuliani said on Saturday he expects it to be torn up, Trump also said last week that his antipathy "doesn't mean I wouldn't negotiate a new agreement."
Members of Trump's own party are split. Representative Mac Thornberry said on Sunday he "would counsel against" Trump quitting the accord. Still, House Majority Leader Kevin McCarthy said he's "very comfortable" that the president is standing up to Iran.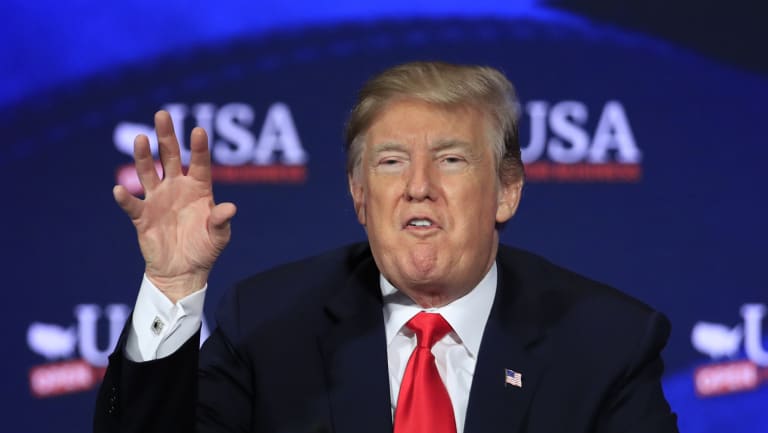 US President Donald Trump: poised to announce decision on whether to abandon Iran deal.
Speaking to reporters on Sunday, Netanyahu said the agreement fails to address potential weaponisation of Iran's nuclear knowledge, imposing only temporary limits on uranium enrichment.
"I say that a deal that enables Iran to keep and hide all its nuclear weapons know-how is a terrible deal," said Netanyahu, who's warned for decades about Iran's nuclear ambitions. The agreement must be "either fully fixed or fully nixed" because otherwise, "you will end up with Iran with a nuclear arsenal in a very short time," he said.
Macron reiterated on Sunday that he wants to maintain the Iran accord, while "complementing" it with talks on Tehran's ballistic missile program and regional activities, according to an interview he gave to Le Journal du Dimanche.
Iran, however, has ruled out new talks, calling the current agreement "non-negotiable."
Rouhani, addressing crowds at a rally Sunday in the northeastern city of Sabzevar, said the US has "always sought to sow intrigue against Iran" and would be making a huge mistake by exiting the agreement.
"If it wants to leave the nuclear deal, it will quickly see that this decision will be a regret of historic proportions," Rouhani said.
US negotiators have been meeting with allies France, the UK and Germany trying to reach a consensus on side agreements responding to US concerns about the deal rather than scuttling it.
"I am sure of one thing: every available alternative is worse," the UK's Johnson said in column published by the New York Times on Sunday. "The wisest course would be to improve the handcuffs rather than break them."
UK officials think "we can find some language, produce some action that meets" Trump's concerns about the deal, Kim Darroch, the British ambassador to the US, said on CBS's "Face the Nation" on Sunday.
"We haven't got there yet," Darroch said. "We have a few days left to see if we can find our way through."
Thornberry of Texas, chairman of the House Armed Services Committee, suggested on "Fox News Sunday" that perhaps the president could delay his deadline so the UK and France can pursue the idea of new negotiations to strengthen the agreement.
By leaving the deal, the US would lose visibility into what Iran is doing, Thornberry said. Iran promised to redesign, convert, and reduce its nuclear facilities while accepting inspections in return for an end to all nuclear-related economic sanctions, boosting oil revenue and regaining frozen assets.
"I thought it was a bad deal," he said. "But the key question is, 'OK, now we are where we are, what happens next if the US pulls out?'"
But McCarthy of California said on Sunday that Trump is taking the right approach.
"It's time someone stands up to them," McCarthy of California said on Fox's "Sunday Morning Futures."
"That was a bad deal to start with, and history will show that was the wrong agreement, and I'm thankful that the president is looking at all options."
Washington Post
Source: Read Full Article