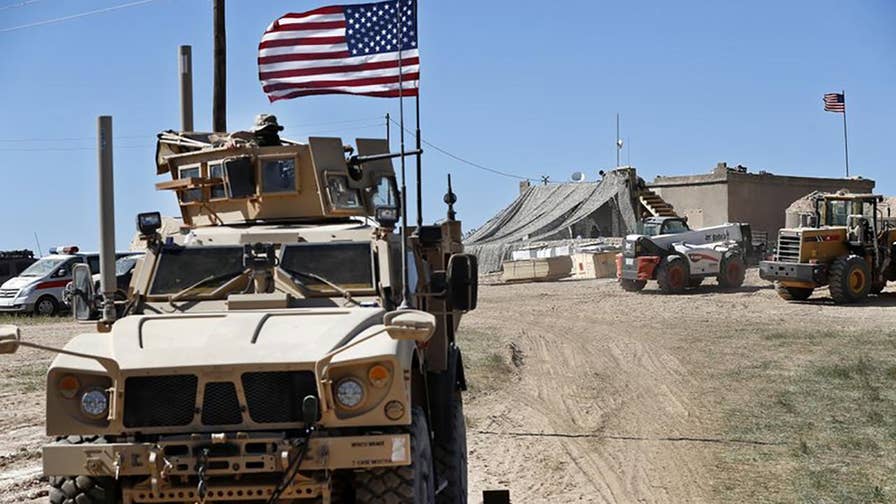 What is the future of US involvement in Syria?
Former State Department official Christian Whiton shares insight.
The Trump administration is playing down talk of an imminent pullout of American forces from Syria, while simultaneously demanding a complete withdrawal of Iranian forces from Syrian territory.
U.S. special representative for Syria James Jeffrey, speaking to reporters Thursday about U.S. policy toward the war-torn nation, is pledging the "U.S. will remain in Syria" until the "enduring defeat" of the Islamic State group.
There are roughly 2,000 U.S. troops deployed there.
President Trump previously has expressed a desire to get the U.S. out of Syria.
Continually during the Trump administration, America's foreign policy is trying to roll back the U.S.' role as a global policeman.
U.S. Ambassador Nikki Haley spoke to the United Nations Security Council Wednesday, saying she doesn't want Nicaragua to turn into another Venezuela or Syria, as Fox News previously reported: "The Security Council should not — it cannot — be a passive observer as Nicaragua continues to decline into a failed, corrupt, and dictatorial state. Because we know where this path leads. The Syrian exodus has produced millions of refugees, sowing instability throughout the Middle East and Europe. The Venezuelan exodus has become the largest displacement of people in the history of Latin America."
Russian forces are preparing for an assault on Syria's Idlib province, a move the U.S. repeatedly has warned likely would result in a bloodbath the scale of which has not been seen in Syria's seven-year war.
The Associated Press contributed to this report.
Frank Miles is a reporter and editor covering geopolitics, military, crime, technology and sports for FoxNews.com. His email is [email protected]
Source: Read Full Article