Weeks after Texas students protested gun violence, it came to their door
New York: Just weeks ago, students at Santa Fe High School in Texas staged a walkout in solidarity with the survivors of a February mass shooting at Marjory Stoneman Douglas High in Parkland, Florida.
They held signs saying #NeverAgain, a hashtag used by student-led protests that took place across the United States since 17 people were killed in Parkland on Valentine's Day.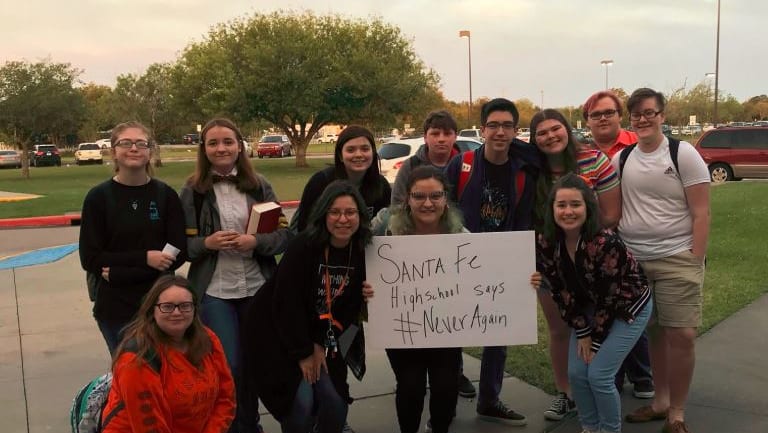 Students at Santa Fe High School staged a walk out in protest of gun violence just weeks ago.
Nine students and one teacher were killed after a 17-year-old student, Dimitrios Pagourtzis, opened fire using a shotgun and a .38 revolver that his father legally owned.
Just after 7.30am, as the school day was starting, he burst into an art class and yelled "surprise" before firing, Texas congressman Michael McCaul said.
Dimitrious Pagourtzis listens to Galveston County Judge Mark Henry during his arraignment at the county\'s jail.
Pagourtzis, once a talented football player who students described as smart but quiet and frequently bullied, planted explosive devices on and off the campus and wrote a journal note saying that he intended to suicide after the shooting, Texas Governor Greg Abbott said.
On Friday morning, a student said he saw Pagourtzis wearing a black trench coat, military boots and a t-shirt saying "Born To Kill" despite 32 degree heat.
Images of the same trench coast and t-shirt were posted on Pagourtsiz' Facebook profile three weeks ago, part of a patchy social media footprint that included signs of an infatuation with guns.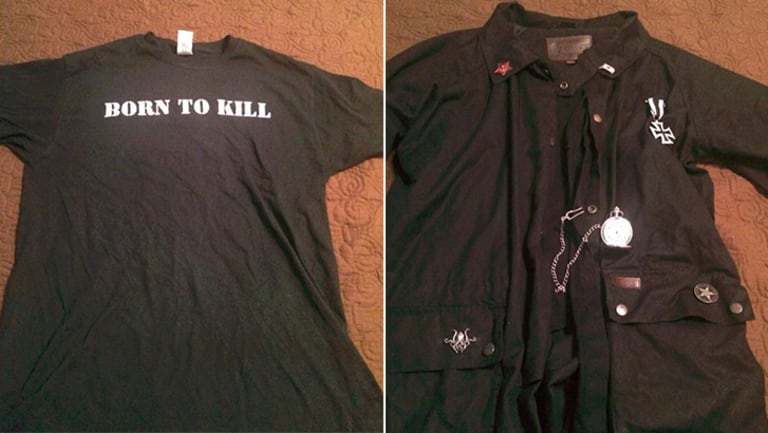 Images on a Facebook profile belonging to Dimitrios Pagourtzis showed a t-shirt and a trench coat.
With his head bowed, Pagourtzis appeared in court on Friday evening and, according to court documents, admitted to killing 10 people.
Zachary Muehe, a sophomore, said he was settling in to art class when Pagourtzis burst in.
"It was crazy watching him shoot and then pump," he told the New York Times. "I remember seeing the shrapnel from the tables, whatever he hit, I remember seeing the shrapnel go past my face."
He tried to escape through a ceramics closet connected to another classroom but, when he found students hiding in there, ran for his life instead.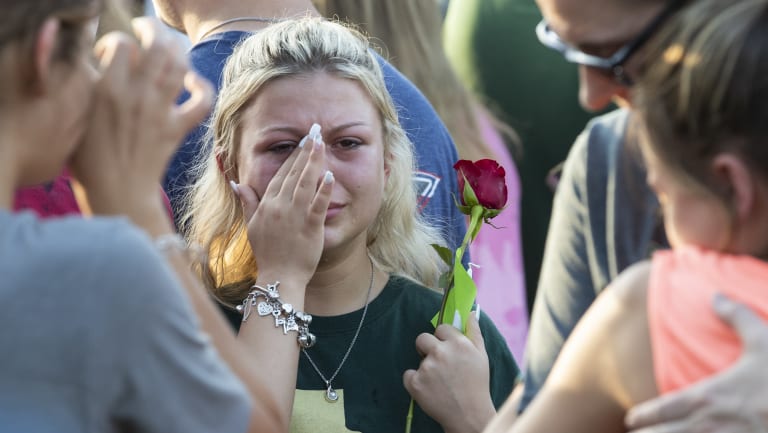 A woman wipes away tears during a prayer vigil following a shooting at Santa Fe High School in Santa Fe, Texa.
One student, Angelica Martinez, said the school's fire alarm went off on Friday and, about two minutes after students began evacuating, she heard gunshots.
"[Some students] were, like, 'run, run, there's gunshots!' Nobody believed them until the gunshots got closer and then we all started running," she told MSNBC.
A retired police officer, John Barnes, who worked as an armed school guard, was shot as he tried to engage the shooter and survived. Nine more were wounded.
Three crude pipe bombs, a Molotov cocktail and a pressure cooker bomb were among the crude devices found at the school and in a car and home connected to Pagourtzis.
Abbott said authorities recovered a journal with a note that said "not only that he wanted to commit the shooting but that he wanted to commit suicide afterwards". He told police that, in the end, he did not have the courage to take his own life.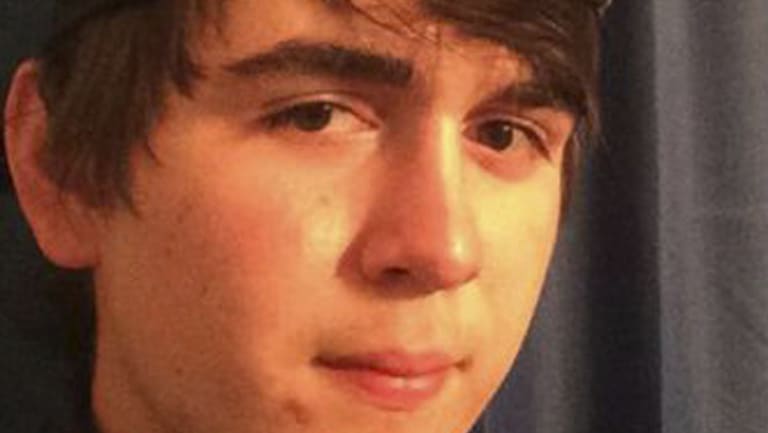 The suspected Santa Fe shooter: Dimitrios Pagourtzis
Abbott said that, unlike many of the mass shootings that have ravaged the US, there were no warnings signs or "red flags" relating to Pagourtzis.
The "Born To Kill" t-shirt "may be the only… warning sign," he said. "The red flag warnings were either non-existent or very imperceptible… As far as having a criminal history, he has none. His slate is pretty clean."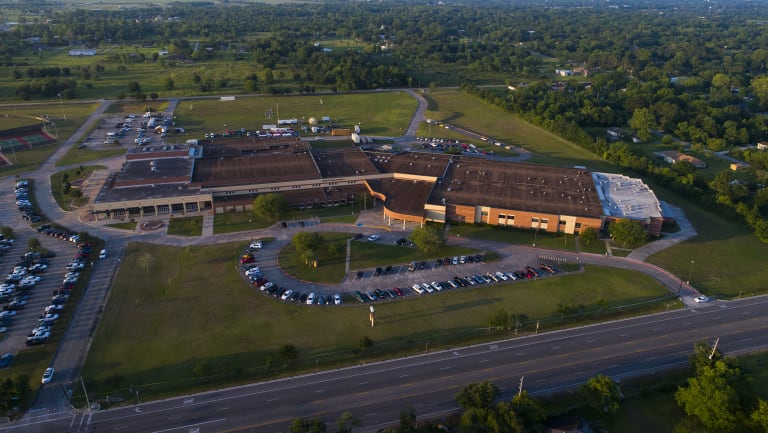 Cars still sit in the carpark were left as the sun set on Santa Fe High School, the scene of the deadly shooting.
Parkland students, still reeling three months after seeing their classmates and teachers killed, expressed anger, heartache and sadness.
"My heart hurts for Santa Fe High School," Marjory Stoneman student Nikhita Nookala wrote online. "Never again, we keep saying, but it just happened again."
Leaders in Texas, home to some of the permissive gun laws in the US, were quick to suggest further school security.
Senator Ted Cruz, second from left, Texas Governor Greg Abbott, second from right, and Lieutenant Governor Dan Patrick, right, speak at a press conference in the wake of the Santa Fe shooting
Texas Lieutenant Governor Dan Patrick said schools may need to have one exit and entrance only, and students may need to stagger their arrival. "We going to have to be creative," he said in comments that were quickly pilloried online.
Friday's shooting was not unusual for Texas; in November, 26 churchgoers were killed when a gunman opened fire on a Sunday service in Sutherland Springs.
US President Donald Trump said his administration was "determined to do everything in our power to protect our students, secure our schools and to keep weapons out of the hands of those who pose a threat".
"This has been going on too long in our country, too many years, too many decades now," he said.
Yet last month, he spoke at the National Rifle Assocation's annual conference, vowing that he would never take members' guns away.
"They talk the talk, they do not walk the walk," Jim Cavanaugh, a former Bureau of Alcohol, Tobacco, Firearms and Explosives agent, said on Friday. "Until they take on the NRA, it's empty words."

Source: Read Full Article