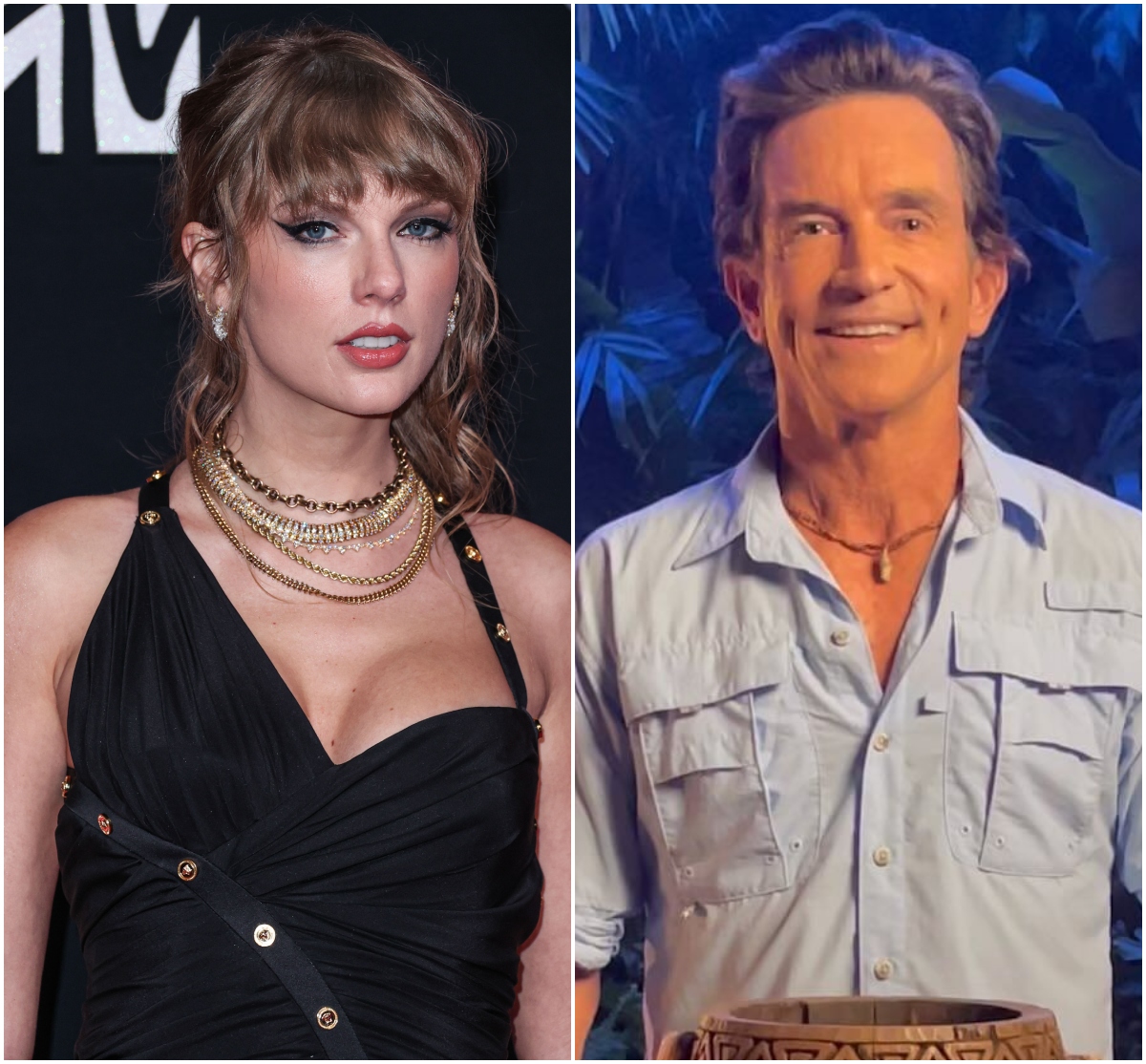 Everyone's a Swiftie nowadays! Or, rather, everyone wants to capitalize on the surge of Taylor Swift fans that are suddenly into football now that she's dating Travis Kelce. Survivor is back for its 45th season, and they decided to shoot their shot with the Swifties by cutting a 30-second promo set to Taylor's song "Mastermind." The promo aired during the Alabama vs. Texas A&M college football game on Saturday and during the NFL double-header on Sunday, in which Kelce's team, the Kansas City Chiefs, played. When Survivor came back after the pandemic, they officially declared it to be "a new era of Survivor." From the new era to The Eras, here we go!
The popular CBS series released an exclusive sneak peek of its upcoming new episode this week featuring Taylor Swift's hit Midnights single "Mastermind" while showing off some of the show's new challenges and strategic contestant plays.

As the opening tune of "Mastermind" plays, several contestants can be seen walking on a beach in small scenes that fit into a puzzle piece. The scenes then cut to show the contestants making fires, jumping in the water for a challenge and walking into their new camps.

"I've watched every season of Survivor," one contestant says in a voiceover, while another notes, "This is strategic excellence on display."

Several other shots show one woman trying to figure out clues and codes, a man using his skills to cut down a branch with a blade, and teams celebrating with each other and giving high-fives.

"I'm always thinking, I'm always trying to figure out what's going on in other people's brains," new contestant Brandon "Brando" Meyer says in a confessional.

The show, which kicked off its 45th season on Sept. 27, promises in the trailer to release extended 90-minute original episodes on CBS and Paramount+. Survivor's premiere episode is currently the No. 1 most-watched entertainment episode on the streaming site, the company said in a press release.
[From People]
I think "Mastermind" is a good choice for a Survivor promo. On some level, It's interesting and clever that Survivor paid to use a Taylor Swift song to promote the show during a football game that her new boyfriend played in. This past summer, they used the Rolling Stones' song, "Gimme Shelter" in a promo clip, but more often than not, they use in-house music, like the song used throughout the season for "Winners at War." Survivor fans are excited that the marketing team is bringing more attention to the season and Swifties are buzzing trying to figure out what it means that the "Lover" house flashes across the screen at the beginning of the promo. It's a win for everyone!
Survivor fans, what are you all thinking about the season so far? I was bummed out by the ending of the first episode and intrigued by the character development we got from a certain Lulu (yellow) tribe member in the second one because I hated them after the premiere. I also think it's funny that they finally decided to create all-new puzzles after Carson admitted that he 3D printed all of the usual ones out to practice for last season. I'm looking forward to the rest of the season.
— J. Maya (Stage Name: J. Maya) (@naniwootwoot1) October 7, 2023
— ethan john (@EthanHec) October 7, 2023
— mason⸆⸉ (@swiftivor) October 7, 2023
Photos via Instagram and Twitter and credit Avalon.red
Source: Read Full Article